Six hours to free elephants trapped in abandoned mine

Last Update: 21/08/2019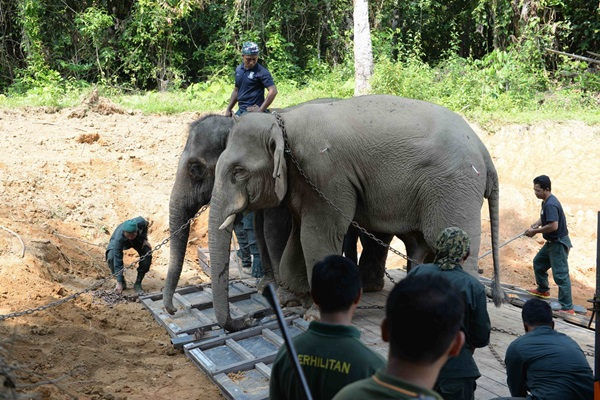 KUANTAN, Aug 21 (Bernama) — The Department of Wild Life Protection and the National Park (Perhilitan) Pahang took almost six hours to rescue five elephants trapped in an abandoned gold mine in Pekan, near here yesterday.
Pahang Perhilitan Director Rozaidan Md Yasin said the operation was carried out by officers of the department from the district of Muadzam Shah, Rompin which received information that four adult elephants and a young elephant were trapped in Runchang, yesterday morning.
"Four officers who were making a review at the location of the incident found that the elephants could not get out as it was believed that the mining area was muddy.
"We were forced to seek the help of a mining company nearby to use their excavator to dig and make a way for the elephants to get out,"he said when contacted here today.
Rozaidan said all the elephants were successfully taken out at about 6pm and were found to be in good condition.
The elephants later continued to make their way into the jungle nearby, he said.
A video recording of the operation to save the elephants lasting 3 minutes 43 seconds was uploaded in the facebook website of Jabatan Perhilitan Semenanjung Malaysia 12 hours ago and as of this morning, the website had been watched by 233,000 netizens.
A total of 1,200 comments were received from visitors to the website who were thankful and praised the determination of the officers concerned to provide assistance in getting the elephants out.
— BERNAMA