Sarawak CM announces new cabinet reshuffle

Last Update: 22/08/2019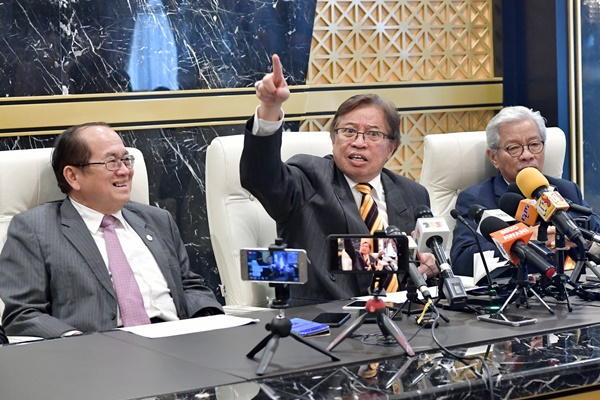 KUCHING, Aug 22 – Sarawak Chief Minister, Datuk Patinggi Abang Johari Tun Openg today announced a new cabinet reshuffle.
He said the cabinet reshuffle was made after Datuk Seri Wong Soon Koh resigned as Minister of International Trade and E-Commerce recently.
The new cabinet line-up that was announced and came into effect today saw Deputy Chief Minister, Datuk Amar Douglas Uggah Embas being appointed as Second Finance Minister replacing Soon Koh.
Subsequently, Tan Sri James Masing was appointed as Minister for the Development of Infrastructure and Ports, while Datuk Amar Awang Tengah Ali Hasan was appointed as Minister of International Trade and Industry, Industrial Terminal and Entrepreneur Development.
Meanwhile, the Minister of Transport, which is a new portfolio in the cabinet, is Datuk Lee Kim Shin.
Lee, who was previously the Deputy Minister of Tourism, Arts and Culture, was succeeded by State Assemblyman for Piasau, Datuk Sebastian Ting.
The Ministry of Tourism, Arts, Culture, Youth and Sports has now been broken into two, namely the Ministry of Tourism, Arts and Culture and the Ministry of Youth and Sports.
The Minister for both portfolios namely Datuk Abdul Karim Rahman Hamzah has been retained.
Meanwhile, Datuk Jaul Samion is the new State Secretary succeeding Tan Sri Mohd Morshidi Abdul Ghani.
The Assistant Minister in the Chief Minister's Office (Sarawak Corporate Affairs and Public Communications Unit) is Abdullah Saidol, while the portfolios for other ministers and assistant ministers have been retained.
Abang Johari said the new state cabinet reshuffle announced today was in line with the objectives of Sarawak which intended to be a developed state by 2030.
"As such, in the efforts to achieve the target of becoming a developed state , the Sarawak government gave emphasis on five major sectors namely raising domestic exports and imports, boosting the oil and gas industry, modernising the agricultural sector, revamping urban areas and improving public transport, and finally, developing the tourism sector," he said at a special media conference at Wisma Bapa Malaysia, here today.
--BERNAMA