Tailoring Merdeka attire for 21 years

Last Update: 23/08/2019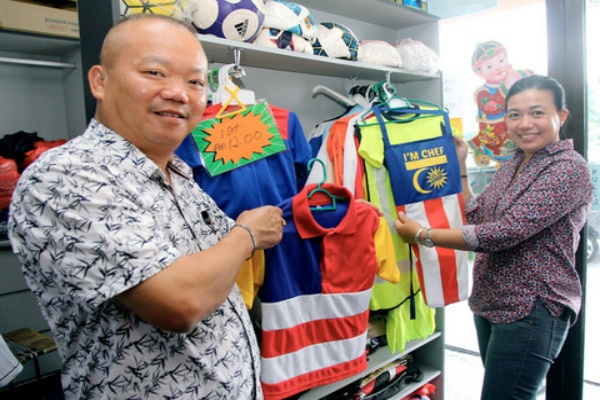 PONTIAN, Aug 23 -- Pontian-born couple Sih Huay Heng and his wife Tan Lay Tin have been tailoring Merdeka-themed attire for the past 21 years and they are in the thick of meeting National Day orders once again.
Merdeka celebrations are not limited to their business as the pair also has a 'Merdeka baby' in the form of their youngest daughter Sih Sin Pei, who was born 17 years ago on Aug 31.
Speaking to Bernama at his shop on Jalan Alsagoff in Taman Jaya here yesterday, 50-year-old Sih could be seen jovially attending to a steady stream of customers from various races.
Their tailoring business, he said, takes orders from all over the country, including Sabah and Sarawak, and also neighbouring Singapore.
To cater for National Day orders, Sih said he and his 42-year-old wife, with the help of their 12 tailors, have created various types of attire featuring motifs of the national flag - ranging from T-shirts, caps, sashes, vests, aprons and even infant clothing.
"We try to give our best efforts for the orders. Prior to this, National Day orders were very much oriented towards logo prints on clothing but now the designs have become varied and include the Jalur Gemilang (national flag) theme," Sih explained, adding that designs were made according to the couple's ideas or the customers'.
The prices quoted by the couple are reasonable and are no doubt, one of the reasons why a large number of orders for National Day have come in from schools, government departments and the private sector.
Regular customer Sulaiman Kimin, 66, who placed an order for National Day clothing for his five-year-old grandson Muhammad Amar Adli Azizi, said the couple produced good quality garments at reasonable prices which they are willing to negotiate.
"I hope my grandson likes it...Sih is good at making clothes for children," he added.
-- BERNAMA