Many not aware they have hypertension, diabetes - Dzulkefly

Last Update: 24/08/2019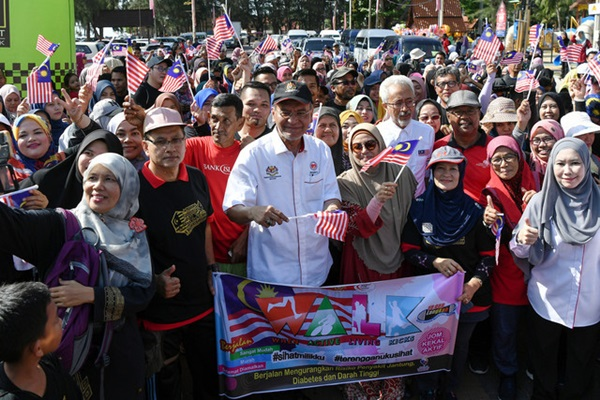 KUALA TERENGGANU, Aug 24 -- A total of 17.2 per cent or 3.47 million of Malaysians do not realise that they have hypertension, said Minister of Health Datuk Seri Dr Dzulkefly Ahmad.
He said that the National Health and Morbidity Study (NHMS) in 2015 also found that 9.2 per cent or 1.85 million Malaysians did not know they had diabetes.
''This matter is very worrying..NCD (Non-Communicable Diseases) is the biggest challenge for us to create a prosperous society.
''As such, the ministry is conducting numerous programmes to hunt those who are not aware they have NCD,'' he told reporters after launching a state level My Healthy Village and National Month programmes at Dataran Batu Buruk here today.
He said that other than the 'Skim Peduli Kesihatan' for the B40 (PeKa B40) group which was implemented since April, My Healthy Village programme too was also one of the ministry's initiative to tackle NCD.
Through the programme, screening tests for hypertension and diabetes would be conducted from house to house in every Parliamentary area nationwide, he said.
Meanwhile, he said the report on the forensic results of 12 Batek Orang Asli bodies in Kuala Koh, Gua Musang, Kelantan, was expected to be received in the next two weeks.
''It is now in the final stage and the results of the report will be tabled to me in two weeks,'' he said.
On June 17, based on laboratory tests, the Ministry of Health confirmed that the plague that took place in the Batek Orang Asli community in Kuala Koh, including involving deaths, was due to measles.
In another development, Dr Dzulkefly said he was not informed about the Cabinet reshuffle as reported, but believed that whatever was being done by Prime Minister Tun Dr Mahathir Mohamad was for the national good and well-being.
On Thursday, when asked on a report that a Cabinet reshuffle would take place at any time, Dr Mahathir was reported to have said that he did tell the Cabinet on a plan to make a little portfolio changes among the members, but had yet to do.
-- BERNAMA