Over 300 motorcyclists participate in Jalur Gemilang convoy in Kubang Pasu

Last Update: 24/08/2019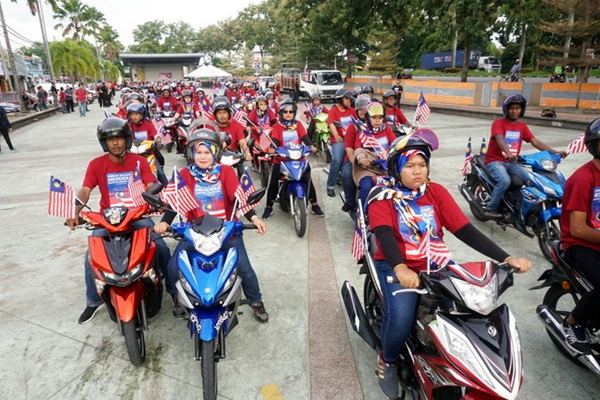 JITRA, Aug 24 -- More than 300 participants on motorcycles today travelled throughout the Kubang Pasu parliamentary constituency encouraging the locals to fly the Jalur Gemilang to express their love for the country in conjunction with the national month celebrations.
All the participants of the Kubang Pasu Merdeka Tour Convoy Programme rode motorcycles decorated and fitted with the national flag along the 126-kilometre journey from Darul Aman Square to the Desa Napoh Community Centre, here, where the convoy will end.
The programme's director, Shafizan Taib, said the participants from all walks of life and various communities travelled through more than 50 villages displaying the spirit of patriotism.
"We want to encourage the public to fly the Jalur Gemilang in their homes and in community areas to instill and inculcate the national spirit in themselves and especially in the younger generation," he said.
He was speaking to Bernama when met at the flagging off of the convoy by Deputy Finance Minister and Kubang Pasu member of Parliament Datuk Amiruddin Hamzah, here today.
Meanwhile, in PASIR PUTEH, some 19 students from University Technology MARA (UiTM) Shah Alam will embark on a 400km peddling expedition, from Pasir Puteh here to Perlis in conjunction with the national month celebration.
Programme director Ahmad Falahi Ahmad Suhaimi said the cycling expedition was expected to take five days.
"Apart from cycling, the participants will also be involved in charity work including the gotong-royong in three places namely Jeli, Gerik and Yan," he told reporters after launching the cycling event at the Wakaf Raja Mosque here, today.
The mosque's iman, Shahifudin Abdullah flagged off the cyclists.
Ahmad Falahi said the programme was aimed at instilling love and patriotism among the youth as well as bringing them closer to the mosque.
-- BERNAMA