Ploggers pick up over a tonne of garbage from Kuantan beach

Last Update: 24/08/2019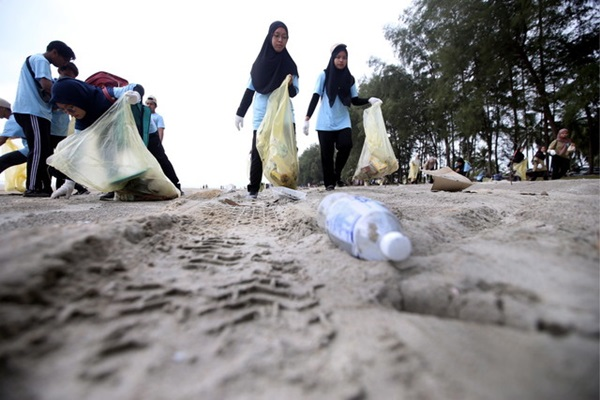 KUANTAN, Aug 24 – Over a tonne of junk was picked up in just an hour from Pantai Sepat in a plogging event today organised by Bank Islam Malaysia Bhd (Bank Islam), the Kuantan Municipal Council (MPK), Solid Waste & Public Cleansing Management Corporation (SWCorp) and Alam Flora Sdn Bhd.
Some 500 volunteers made up of Bank Islam staffers and students from Kolej Universiti Islam Pahang Sultan Ahmad Shah (KUIPSAS), Kolej Vokasional Kuantan, Kolej Poly-Tech MARA (KPTM) Kuantan and the Universiti Islam Antarabangsa Malaysia (UIAM) Kuantan campus, took part.
Bank Islam chief operating officer, Mohamed Iran Moriff Mohd Shariff, said RM30,000 was allocated for the initiative aimed at educating people about keeping the environment clean.
Part of a corporate responsibility (CR) programme called AMAL, "the allocation also involved the building of five swings and six benches for use by those visiting Kuantan's second longest beach.
"We also passed aid to the asnaf residents at three homes in Kampung Pantai Sepat from a Bank Islam zakat allocation," Mohamed Iran told reporters after launching the event also attended by Pahang local government and housing committee chairman, Abd Rahim Muda.
-- BERNAMA