Learning Jawi easier than roman alphabets, Ching Iyu recalls

Last Update: 25/08/2019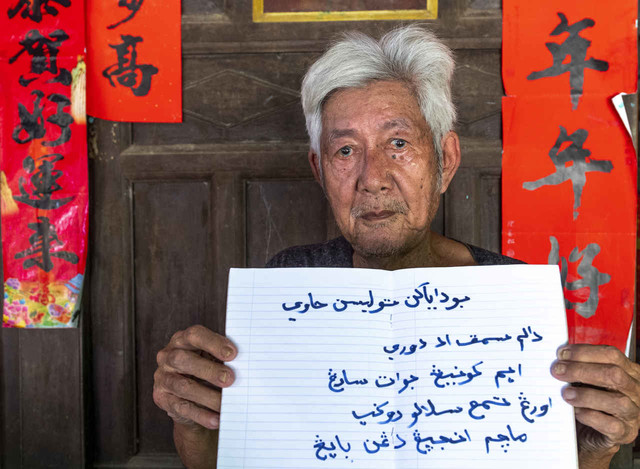 PASIR MAS, Aug 23 (Bernama) -- Slowly, Owee Ching Iyu opens the middle part of an exercise book.
With a 'marker pen' and in an orderly fashion, he spelled and wrote a pantun (traditional piece of folk poetry) in Jawi (Arabic script).
'Dalam semak ada duri, ayam kuning buat sarang, orang tamak selalu rugi, macam anjing dengan bayang,' (loosely translated, there are thorns in the bushes, yellow chicken is making a nest, greedy people always lose, like the dog and its reflection), Ching Iyu wrote neatly in Jawi.
It all started when he was nine when he attended school in 1951.
"I was studying at Sekolah Melayu Tendong. At that time the only Chinese school was in Pasir Mas. Getting to the Chinese school was difficult because I would need to ride the North Eastern Transport Service (NETH) bus, but my family couldn't afford it.
"By attending the Sekolah Melayu Tendong, I needn't have to take the bus, I only needed to walk two kilometers to school," he said when met at his home here today.
The father of six children confessed that since he didn't receive formal education at a Chinese school, he couldn't write in Chinese.
"I use Jawi daily. For example, to mark important dates for agricultural activities as I work as a farmer in the village.
"Learning Jawi was difficult at first but once I'd mastered it, it was easier to learn than the roman alphabet. Only thing is, the spelling in Jawi is a little different now than what I was used to.
He also remembered learning a few subjects in Jawi, such as History and Composition while in school.
"Back in the day, the first thing we need to do to learn Jawi is to sharpen our pencils as we also learned Khat calligraphy. Jawi is beautiful if written in Khat calligraphy," he said.
Whenever he missed reading Jawi he would take out an Utusan Jawi newspaper he'd bought in 2008 which he'd kept to this day.
Born during the Japanese occupation, Ching Iyu couldn't recall much but remembered his late mother relaying to him how she had taken him and other siblings to Narathiwat (South Thailand) because the Japanese was looking for labourers to build a rail track in Burma.
Ching Iyu had only been in school for two years when the WWII ended. The coronation of Queen Elizabeth II as the Queen of England on June 2, 1953 is still fresh on his mind.
"A few days before the coronation, the teacher asked all the students to attend the school to celebrate Queen Elizabeth II's coronation. The event took place during the school holidays and we were all forced to attend the school to see the Union Jack flag hoisted.
"We only got an orange bottled drink and a few biscuits for attending," he recalled.
On the country's independence on Aug 31, 1957, Ching Iyu said he learned about it from his teachers but was a little disappointed that he could not celebrate the historic day because he was in the village.
"Life was hard then, it was difficult to get to Kota Bharu where the celebration took place as there was no transportation," he said.
-- BERNAMA