School creates national flag with 2,002 used water bottles

Last Update: 25/08/2019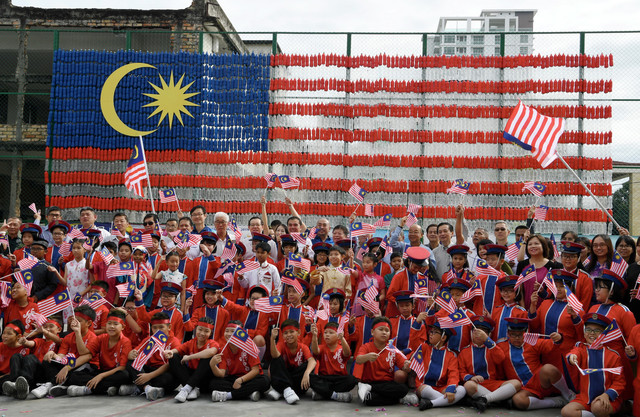 BUTTERWORTH, Aug 25 (Bernama) -- The teachers and students of Sekolah Rendah Jenis Kebangsaan Cina (SRJKC) Chung Hwa Pusat, here continued their tradition of celebrating the National Day this year by producing a giant national flag using used mineral water bottles.
Stitching 2,002 1.5 litre bottles together, the school created a gigantic environmental friendly Jalur Gemilang measuring 14 metres long and four metres high in three weeks to hang mammoth flag structure in front of the school.
School headmistress Tan Soo Moi said each year the school management and staff would discuss ideas on celebrating the National Day and this year, it was the giant flag project using used water bottles.
"This year we planned early. We began the project at the end of July when the water bottles have been collected by pupils and teachers apart from contributions from waste recycling companies. During the period, we work on flag after school hours and even on weekends to get the national flag project ready," she said.
She was met after launching the giant Jalur Gemilang by Finance Minister Lim Guan Eng here today.
Tan said more than 530 pupils and 30 teachers as well as members of the school Parent Teacher Association, school board and community joined in to stitch and paint the water bottles flag which costs about RM800.
-- BERNAMA