'Mok Su' a boon to East Coast food lovers in the west of the Peninsular

Last Update: 26/08/2019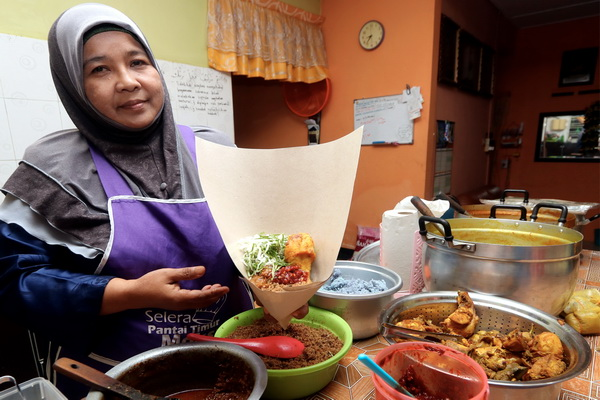 By Ahmad Muliady Abdul Majid
MELAKA, Aug 26 (Bernama) -- Kedai Makan Mok su, with its specialty dish 'Nasi berlauk gulai ikan 'Ayo', or tuna curry rice, serves up authentic East Coast cuisine on the other side of the Peninsular, here.
Restaurant owner Roslina Hussin, 53, who is fondly known as Mok su, said she opened the eatery located in Taman Tun Rahah, Bukit Katil in 2012, with the intention of helping the Kelantanese people here get a taste of food from home.
"I remember that when I first moved to Melaka in the early 90s, it was difficult to find Kelantanese curry rice here and I had to cook it myself to serve as breakfast for my husband and children," she told Bernama here today.
She said initially, she supplied flour-based traditional cakes such as 'kuih cek mek molek', 'kuih keria' and 'cucur badak' to food stalls from 2006 to 2009 before selling breakfast small-time, by setting up a table in Kampung Tun Razak, Bukit Katil in 2010.
"From that point on, my gravy rice business grew, so much so I was able to buy a house and turn it into a restaurant in 2012, and this was all due to patience, persistence and the support from patrons," she said.
Roslina said she came from a low-income family, and the economic downturn that hit the country in the 90's forced her to make some side money to help her husband, Mat Japar Yaakob, 60, to support their three children who were still in school at the time.
On how she felt after her signature dish became so popular on social media, that it attracted fans all the way from Kuala Lumpur and Johor, she said she was glad to see smiles on the face of her customers, with some even saying that it reminded them of their mother's cooking.
She said some customers even treated her like their mother, as they kissed her hands and asked permission to leave after having their meals.
"I treat all the customers who come to the shop as my own children. Perhaps for some, their mother is no more, or maybe they rarely return to their hometown, so they often come here as it helps them feel at home," he said.
Roslina said apart from the fish gravy rice, other popular dishes sold at her restaurant were 'nasi dagang', 'nasi berlauk gulai itik (duck gravy rice), 'laksam' (Kelantanese laksa), kuih cek mek molek and 'nasi kerabu'.
She said although the price of raw materials was on the rise, she still maintained the original price of RM4.50 for nasi berlauk, nasi dagang and nasi kerabu, and RM6.00 for nasi berlauk gulai itik and nasi kerabu with Kelatan spicy chicken.
Roslina said her dream was to produce 'gulai darat' curry paste in the future to grow her business.
"If possible, I want to produce the 'gulai darat' paste to make it easier for those who like the food to prepare it at home for themselves," she said.
-- BERNAMA