Ex Commando educates grandson with military training

Last Update: 26/08/2019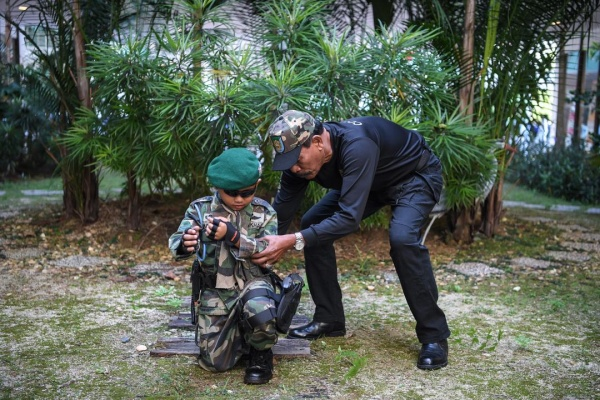 SUNGAI PETANI, Aug 26 (Bernama) -- In order to instill the love of the country from an early age, a former commando educated his six-year-old grandson with various military training including drilling, firing positions and forestry.
Abdul Halim Mat Ludin, 61, said he also wanted to ensure that his grandson Muhammad Haziq Muhammad Hariq grew up with a strong understanding of the military and appreciated the role of security forces in maintaining the country's sovereignty.
"From the time he was a little boy I inculcated his interest in the army, I bought army toys and placed them on him while he slept so that his interest would grow.
"As he grew older I started to train him. Drawing from the training I had received at army camps, I would train him everyday from jogging and shooting positions to swimming and climbing ropes, you know the whole works," he said.
Not only that, Abdul Halim also sews army uniforms for his grandson to wear during each exercise.
He hoped that all these exercises would enable Muhammad Haziq to grow up disciplined and possess high mental and physical endurance.
"I also hope he can follow in my footsteps and fill my shoes someday," he said.
Commenting on his experience while in the service, Abdul Halim said there were two unforgettable events when fighting communist terrorists.
Describing his first experience, it was in 1982 while participating in an operation in the Sungai Itik forest, Gopeng where he had clashed with the communists before the shooting started.
"Two of my comrades were injured in the shooting, it was a very tensed situation because we didn't know how many of them were there but then the communists ran away and we knew some of them were injured from the traces of blood," he said, thankful that all his colleagues survived the incident.
Abdul Halim said another memorable incident was when the helicopter he was riding crashed from a height of about 200 feet in the air.
He said the incident occurred in 1981 in Ulu Kelantan when he was involved in an operation to rescue military personnel from the forest in the area.
"After rescuing them out of the jungle, all of a sudden the helicopter was unable to fly. It plunged and made a crash landing, but we were all safe, thank God," he said, noting that there were 10 members in the helicopter.
Meanwhile, Abdul Halim advised Malaysians especially the younger generation to appreciate the peace in the country and not to forget the services of former fighters who had sacrificed their lives for the country.
"Although communist threats no longer exist, there are actually many other threats that we need to be aware of, so we should always be vigilant to protect the peace," said the former commando who served at the 21 Sungai Udang Commando Regiment Camp, Malacca from 1979 to 2000.
-- BERNAMA