Ushering in Malaysia's 62nd National Day celebration underwater

Last Update: 27/08/2019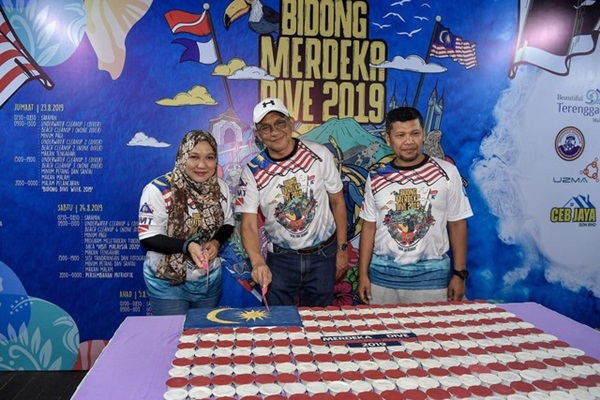 By Wan Muhammad Aslah Wan Razali
BANDAR PERMAISURi, Aug 27 (Bernama) -- As a way of ushering in Malaysia's 62nd National Day celebration, a total of 120 scuba divers took part in the Bidong Merdeka Dive 2019 to clean up the coral reefs and 'fly the 'Jalur Gemilang' underwater to show their love for the country and its natural beauty.
Co-organised by the Terengganu Office of Ministry of Tourism Arts and Culture (MoTAC) and Universiti Malaysia Terengganu (UMT), the four-day programme which began on Aug 22 and themed 'Dive For Debris', was initiated in line with the theme of this year's National Day celebration, 'Sayangi Malaysiaku: Malaysia Bersih'.
Terengganu MoTAC director Zanariah Zakaria, who was also one of the divers, said the programme was also aimed at raising awareness and luring support from the public and relevant organisations to play a role in conserving coral reef ecosystem and cleanse them from debris and garbage left directly or indirectly on the ocean floor.
"We are aware that a lot of trash gets thrown into the ocean every day and threatens the marine life, so we must do our part in keeping our coral reefs clean from debris that might jeopardise the marine ecosystem.
"There are many beautiful islands in Terengganu and these islands are an important asset to the state especially in terms of attracting more tourists, so we need to continue to maintain the beauty of these islands so that it will continue to amaze people who come here in the future," she told Bernama.
Meanwhile, UMT Deputy Vice-Chancellor Prof Dr Mazlan Abd Ghaffar said that the programme had become a main programme for the university and has been conducted annually in Bidong Island, which belongs to and strictly conserved by UMT.
He said the island has a unique history as it was once a campsite for 18,000 desperate Vietnam refugees who were fleeing war and looking for a safe haven at the time between 1978 and 1990.
"The coral reef surrounding this island has some unique attractions for scuba divers. There also exists the first underwater gallery in Asia that comprises replicas of cultural artefacts and relics in Terengganu, such as a turtle, the Terengganu Inscription Stone and many more," he said.
Among the debris found and removed by the participants during the programme were plastic materials, old tin cans and also fishing traps.
The Bidong Merdeka Dive programme, which entered its 11th year this year was organised as one of the programmes in the Bidong Dive Week calendar that focuses towards conservation efforts of the marine ecosystem and natural environment.
-- BERNAMA