Sekayu, hot destination for pulasan fans during fruit season

Last Update: 29/08/2019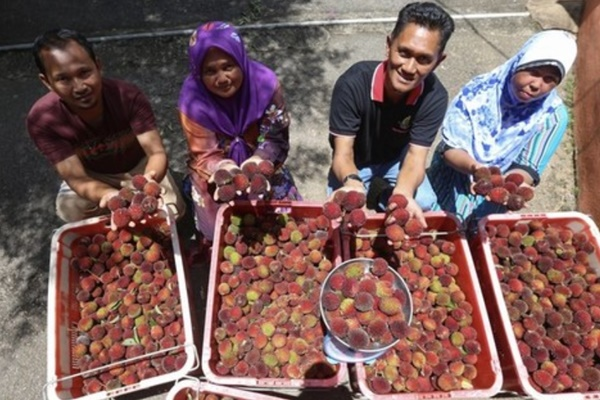 KUALA BERANG, Aug 29 -- Each time the fruit season comes around, the Sekayu agricultural park (TPNS) becomes a hot destination for its fresh fruit produce with a reasonable price.
Just name any local fruit, chances are you can find them all on the 20-acre orchard at the farm.
However, the true uniqueness of the TPNS is that it is the only orchard that houses pulasan (closely allied to the rambutan) trees on a large scale in Terengganu, about 200 trees.
Speaking to reporters here today, TPNS Manager Mohd Amran Awang said pulasan yields this year are expected to increase to five tonnes compared to three tonnes last year.
"The 1.5-hectare pulasan farm at TPNS has been bearing fruits for the past five days and is expected to continue until mid-September.
"Every day, many come to TPNS to buy pulasan that are sold cheaply at just RM10 for three kg compared to RM5 to RM7 a kg elsewhere," he said.
Aside from selling it to the public, TPNS also donated the exotic fruit to schoolchildren around Hulu Terengganu as a campaign to encourage them to eat local fruits.
"Many still do not know much about the fruit, and many are confused because it tastes similar to rambutan ... every year I will receive various questions from visitors as they say this fruit is hard to find in the market.
"By coming here, visitors not only have the opportunity to buy it at a cheaper price but also have the opportunity to pick it from the tree while learning more about the agricultural sector," he said.
The TPNS under the management of the Terengganu State Department of Agriculture was developed in 1983 for four purposes namely tourism based on agriculture, economy, education and as a recreational facility for the public.
-- BERNAMA