Penang records country's highest investment in H1 2019

Last Update: 29/08/2019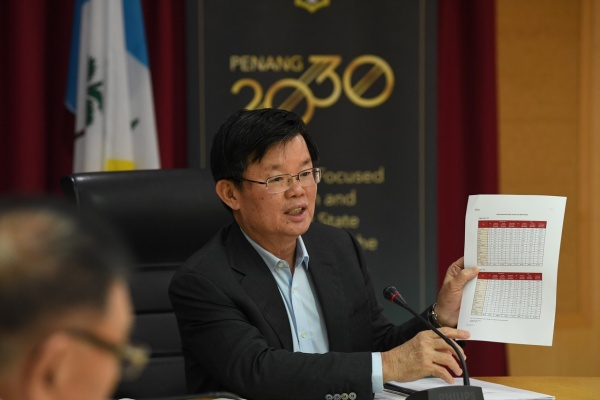 GEORGE TOWN, Aug 29 -- With investments worth RM9.21 billion in the first six months of 2019 (H1 2019), Penang has once again taken the top spot among the states in Malaysia in terms of investments.
Citing the Malaysian Investment Development Authority's (MIDA) H1 2019 report on approved projects in the states, Chief Minister Chow Kon Yeow said of the total amount, RM8.07 billion were foreign investments while RM506.5 million was domestic, involving 56 projects.
Speaking to reporters at a press conference here today, he said the amount surpassed 2018's total investments of RM5.78 billion, involving 108 projects.
"Being able to remain in the top spot is not that important. The most important thing is that we are still capable of attracting investments to the state, given the current challenging economic climate.
"The state government would like to thank federal agencies such as MIDA, as, without the incentives, we might have lost our investor appeal," said Chow, who expressed his hope that Penang would be able to continue playing a major role in the manufacturing sector, particularly in the electrical and electronics industry.
He said total foreign investments in H1 2019 more than doubled the amount of foreign investments recorded in 2018, which was RM3.69 billion.
"Domestic investments were much lower compared to 2018. We did better in foreign investments as it doubled that achieved last year, but we did not do as well in domestic investments compared to last year," he said.
Meanwhile, Chow commented on an English daily's report yesterday on the Kulim International Airport's development, which stated it may be built bigger than originally planned and have two runways.
He said the Penang state government held on to Kedah state government's commitment that the airport would be prioritising cargo handling.
Chow said for the time being, the state government was focusing on the upgrade and expansion of the Penang International Airport (PIA) which had surpassed its maximum annual capacity of 6.5 million passengers.
"Passenger arrivals' have been growing at around 15 per cent to 20 per cent, and will hit eight million easily by this year. Thus it is very critical that upgrading and expansion of PIA goes ahead.
"Our engineers have submitted the application for planning permission, and normally we will only take 108 days to process it," he added.
-- BERNAMA