Aid for Pahang government in water management - Mohamed Azmin

Last Update: 29/08/2019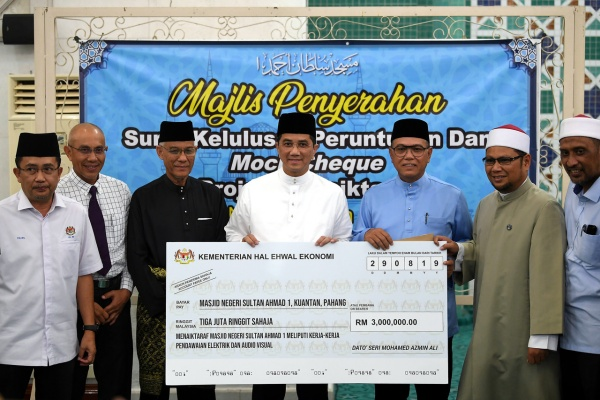 KUANTAN, Aug 29 -- The Federal Government gives its assurance on aid for the Pahang government in the aspect of water management, said Economic Affairs Minister Datuk Seri Mohamed Azmin Ali.
He said the need to assist the state was considering that a large section of the area in Pahang formed an important water catchment area to ensure the supply of the basic resource in the state and its neighbouring areas remained good.
In addition, the aspect of maintenance of dams required substantial costs said Mohamed Azmin adding that the Pahang state government had "limited" resources thus it could not develop the water catchment areas.
"Water management remained with the state government administration but Pengurusan Aset Air Berhad (PAAB) will look at the need for water assets which will certainly require a large sum for the upgrading.
"We will also assist in reducing Non-Revenue Water (NRW) which resulted in losses to the state government. In Pahang the rate of NRW is high at 46 per cent and to reduce it by one per cent only would require hundreds of thousands of ringgit," he said.
Mohamed Azmin said this at a media conference after handing over an allocation of RM3 million to Pahang Menteri Besar Datuk Seri Wan Rosdy Wan Ismail to upgrade the Sultan Ahmad 1 Mosque, here today.
He said that among the measures required to reduce the NRW was to replace the old pipes to ensure that there were no leaks besides implementing the agenda to check water thefts, which requird close cooperation between the Federal and the state governments.
The commitment of the Federal government in assisting the Pahang state government in the water issue was also apparent through the announcement by Prime Minister Tun Dr Mahathir Mohamad who approved RM653 million for three water projects in the state previously, he said.
Apart from the water aspect, Mohamed Azmin said appropriate allocation of development funds was also given to Pahang to improve infrastructural facilities in the state.
For example, he referred to the session on the Engagement in Preparing the 12th Malaysia Plan chaired jointly by by him and Wan Rosdy which saw Pahang receiving RM2.42 billion for the implementation of various projects in Pahang under the Rolling Plan 4 2019, 11th Malaysia Plan.
-- BERNAMA