Call to turn Tasik Kenyir into geopark to preserve its natural heritage, history

Last Update: 02/09/2019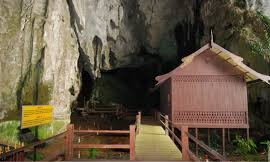 KUALA BERANG, Sept 2 -- The Terengganu state government is urged to take proactive action to turn the Tasik Kenyir area, here, into a geopark to ensure preservation of its natural heritage and history.
Universiti Malaysia Terengganu (UMT) Tropical Biodiversity and Sustainable Development Institute programme chairman, Dr Hazman Samsudin said the move could generate income for the surrounding community through ecotourism activities.
Speaking to Bernama after conducting a survey at Bewah Cave, located near Tasik Kenyir, recently, he said the plan to make Tasik Kenyir a geopark was mooted in 2011, but it had not been realised until now.
"Declaring Tasik Kenyir a geopark will attract foreign investors, as well as provide business and employment opportunities to the local community.
"Based on a demographic study conducted by UMT on the Tasik Kenyir community, the youths were migrating to the cities to find better economic opportunities and this gave a negative impact on the area's socio-economic development," he said.
As a result of the migration, Hazman said many farm lands were left idle while some landowners had to hire Indonesian or Bangladeshi workers to work the plots of land.
"So, if there is no government intervention, there will be decreasing economic opportunities here and with the elderly diminishing, who else will stay? Eventually, we will lose our legacy here," he said.
Taking Langkawi Island as an example, Hazman noted that the number of tourists coming to the island increased after it was declared a geopark.
He said turning Tasik Kenyir into a geopark would not burden any party or affect existing incomes as it would not involve gazetting the change.
"Unlike the World Heritage sites which have to be gazetted, business here will run as usual. This means that if we have a quarry or logging area here, we can continue with the quarrying or logging activity, but do not carry it out at historical locations such as Bewah Cave.
"Bewah Cave has been identified as a heritage site as there was the presence of the 'Bewah Man' and so on, so no logging here," he said.
Archaeologists and scientists were reportedly trying to unravel the mystery of the 'Bewah Man', the skeletal remains of which were discovered in 2009 and believed to be 16,000 years old.
Hazman hoped that the proposal to declare the Tasik Kenyir area a geopark be taken seriously by the state government, especially in ensuring the sustainability of heritage resources and growth of the tourism industry.
The 209,189-hectare Tasik Kenyir is the largest man-made lake in Southeast Asia and a habitat for thousands of flora and fauna species. It was also where dinosaur fossils were found.
-- BERNAMA