Tengku Hassanal proclaimed Chancellor of KUIPSAS

Last Update: 03/09/2019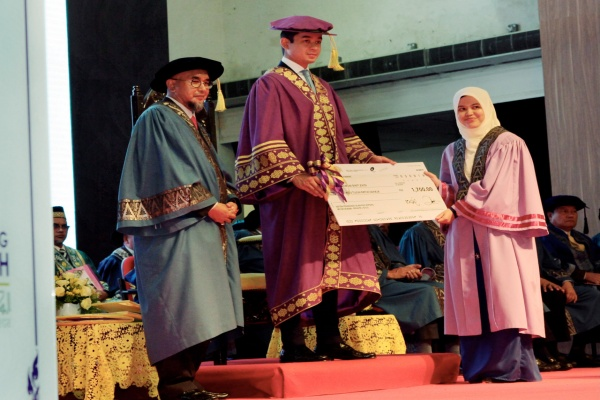 KUANTAN, Sept 3 -- The Regent of Pahang Tengku Hassanal Ibrahim Alam Shah Al-Sultan Abdullah has been proclaimed as the chancellor of Kolej Universiti Islam Pahang Sultan Ahmad Shah (KUIPSAS).
The proclamation ceremony was held in conjunction with the 18th KUIPSAS Convocation held at the Dewan Jubli Perak Sultan Haji Ahmad Shah, here today.
Pahang Menteri Besar Datuk Seri Wan Rosdy Wan Ismail, as KUIPSAS pro-chancellor, proclaimed the appointment of Tengku Hassanal as the new chancellor and helped him put on the chancellor robe.
Tengku Hassanal is the second KUIPSAS chancellor. He replaced his grandfather the late Paduka Ayahanda Sultan Ahmad Shah Al-Musta'in Billah who was he first chancellor from Feb 2016 until his death on May 22 this year.
In his speech, Tengku Hassanal expressed his gratitude with the trust given to him by the state government and the university to continue his grandfather's legacy and aspiration to see KUIPSAS grow and become a centre for Islamic-based education, especially for the people of Pahang.
Tengku Hassanal also expressed his desire to see KUIPSAS, previously known as Kolej Islam Pahang Sultan Ahmad Shah, continue to produce holistic graduates and scholars who were able to contribute to society.
According to him, KUIPSAS had, in the last 23 years, produced over 5,000 graduates and to the 360 graduates receiving their diplomas at the convocation, Tengku Hassanal advised them not to be complacent.
"You still have a long and arduous journey ahead of you, what more with the demands of a world without borders, the fourth industrial revolution and the uncertainty of the world economy, you should not feel comfortable with just a degree.
"Make sure you are equipped with the knowledge and skills relevant to the demands of time such as communication skills, high leadership qualities, entrepreneurial and information technology skills," he said.
At the event, Tengku Hassanal also accepted a grant of RM100,000 from Pahang Islamic Religious and Malay Customs Council (MUIP) deputy chairman Datuk Seri Wan Abdul Wahid Wan Hassan for KUIPSAS to build an Academy of Hadith, to collect and document the manuscript of hadith, which was also the aspiration of the late Sultan Ahmad Shah.
-- BERNAMA