Cops seize 60,000 'pil kuda' worth RM600,000

Last Update: 03/09/2019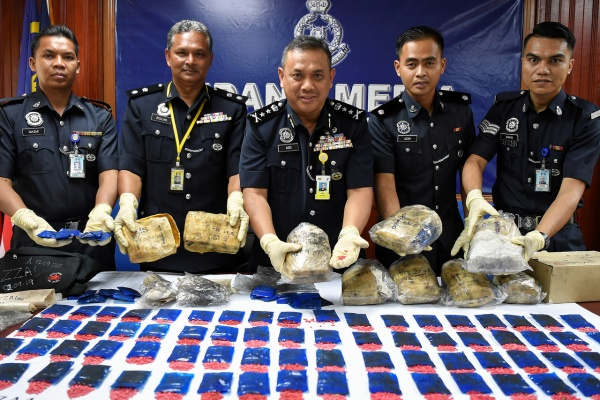 KUALA TERENGGANU, Sept 3 -- Terengganu police arrested an unemployed man and seized 60,000 'pil kuda' (amphetamines) worth RM600,000 in a raid on a house in Kampung Padang Machang, Manir here on Sunday.
Terengganu police chief Datuk Aidi Ismail said police believe they have crippled a drug syndicate in Kuala Terengganu and Kuala Nerus following the arrest of the 34-year-old suspect.
"From the investigation in a room with the suspect present, police found a sling bag containing four packets of red-green pills believed to be amphetamines.
"There was also a box containing six more packets of the same pill," he said at a press conference here today.
Aidi said the suspect had obtained the drugs from a friend on Aidiladha for distribution.
"The suspect has been carrying out this activity for about a month and it was the first time he had taken in large quantities from his friend, who is a drug dealer and distributor," he said.
Aidi said police are investigating to identify the buyers and distributor of the drugs.
He said the suspect, who was found to be positive for methamphetamine and had two previous records of drug abuse, has been remanded for seven days until Sept 8.
The case is being investigated under Section 39B of the Dangerous Drugs Act 1952, which provides for the death sentence or life imprisonment and whipping of not fewer than 15 strokes on conviction.
-- BERNAMA