Penang allocates RM1.3 million in financial aid for university students

Last Update: 03/09/2019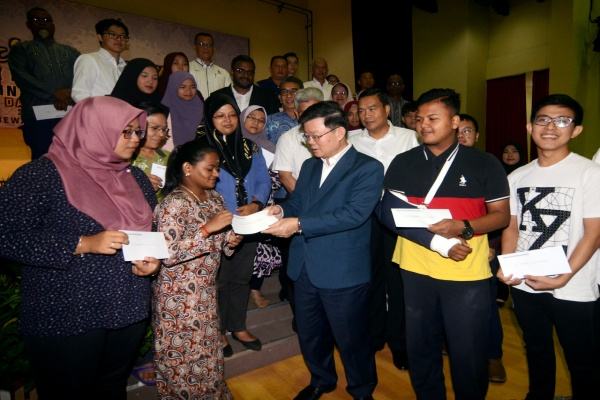 KEPALA BATAS, Sept 3 -- The Penang government has allocated more than RM1.3 million to be given as financial aid to Penang-born students of institutions of higher learning, Chief Minister Chow Kon Yeow said today.
He said the assistance was given to ease the financial burden that students and their families had to face due to the high expense in the early stages of university admission.
"At the beginning of this initiative, the state government had allocated it to students of public institutions of higher learning (IPTA) only.
"However, after hearing the people's complaints, the state government has agreed to extend this grant to students of private institutions and polytechnics approved by the State Executive Council Meeting (MMK)," he said at a presentation ceremony at Dewan Millennium here.
At the event, he presented RM337,300 in financial aid to 443 students and their family members from North Seberang Perai and earlier, similar assistance was also given to recipients in Central Seberang Perai and South Seberang Perai.
Chow said this assistance would be provided to recipients in the Northeast and Southwest districts soon in the form of RM1,000 for students who enrolled in Peninsular Malaysia, RM1,200 for Sabah and Sarawak institutions of higher learning and RM300 for polytechnic students.
Meanwhile, Hazrina Md Razi, 53, who represented her daughter to receive the cheque, said she and her family were grateful that the grant would help ease her family's financial burden.
"I am a housewife while my husband works at Keretapi Tanah Melayu Berhad (KTMB). We are very grateful to the state government for the financial assistance," Hazrina said.
Her daughter, Siti Nur Hidayah Zainol, 19, was unable to attend the event because she had begun her studies at Universiti Sains Malaysia (USM).
-- BERNAMA