Launch of 5th Division, 13th Bgd to strengthen defence in Sabah

Last Update: 04/09/2019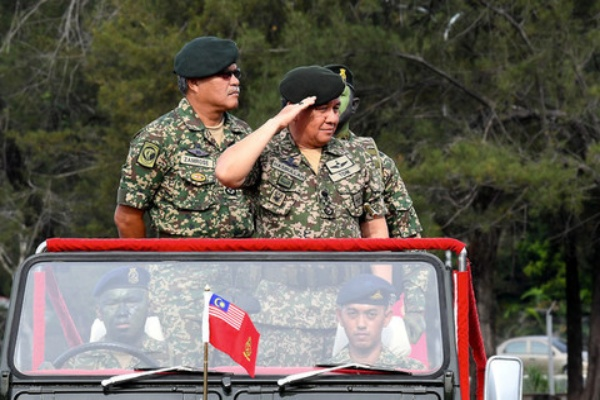 KOTA KINABALU, Sept 4 --The launch of the Fifth Division of the Malaysian Infantry and the 13th Malaysian Infantry Brigade (13 Bgd) was a re-alignment to streamline the organisational structure of the Malaysian Armed Forces (MAF) in the state.
Army chief Datuk Seri Ahmad Hasbullah Mohd Nawawi said this was necessary due to the geostrategic developments in Sabah.
"Therefore, the Task Force 450 switched its designation to the 5th Division while the 13th Brigade (Eastern Sabah Security Command - ESSCom) was named 13th Brigade," he said in his speech at the launch in Lok Kawi Camp today.
Task Force 450 was formed on March 27, 2014 while the 13th Bgd ESSCom was established on Jan 31, 2017.
According to him, this move was in line with the Army Strategic Development Plan - Army 2 10 plus 10 which will be replaced with the 4NextG plan to strengthen the security forces nationwide.
He added the establishment of these two formations would not have achieved its goals without the support of employment, membership, assets, infrastructures, and welfare.
Ahmad Hasbullah said MAF would continue to serve the country in defending against enemy attacks and sovereignty of the country.
"The army also needs the support of the people. History has proven the partnership between the army and the people can generate synergy to safeguard national sovereignty," he said.
-- BERNAMA