Sungai Damit bridge connects Tuaran and Tamparuli

Last Update: 05/09/2019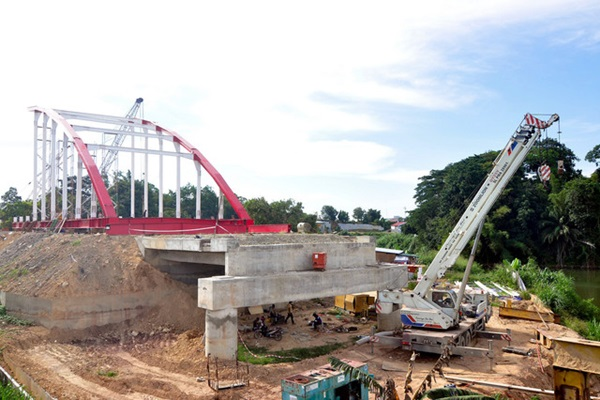 TUARAN, Sept 5 -- About 30 per cent of the concrete bridge across Sungai Damit, connecting Tuaran and Tamparuli has been completed, giving local residents hope of the facilities they will get to use.
A Bernama look at the location found that developers appointed by the government were working on completing the main structure costing RM18 million which have residents have been long been waiting for.
The design of the bridge will follow the one crossing Sungai Tamparuli, making the district a place with two similar bridges.
Work on the 104-metre structure began last month and the bridge will benefit more than 7,000 residents of Kampung Sawah, Sungai Damit, Bintangor, Pitas, Bantayan, Damat and Bontoi, Tamparuli.
Tamparuli state assemblyman Datuk Jahid Jahim said the bridge would not only benefit the local residents but would also boost development in Tuaran and Tamparuli.
"I am happy that finally the hopes of the people of these villages like Sungai Damit and Sawah, as well as the others will become a reality," he told Bernama here.
-- BERNAMA