Strong winds rip off roofs, shatter windows in Terengganu

Last Update: 07/09/2019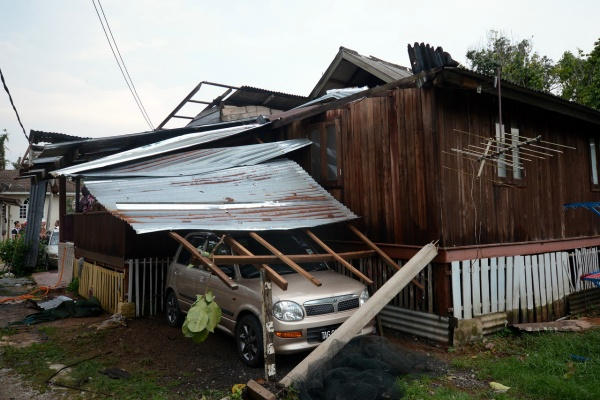 KUALA TERENGGANU, Sept 7 – It lasted just 15 minutes, but a sudden storm with strong winds that whipped through the Wakaf Mempelam constituency at 3.30pm today has damaged more than 40 homes.
A couple of Kampung Pulau Musang and Kampung Padang Jerat residents told reporters it was a terrifying experience and that the storm has caused heavy damage.
"I had just come back from a wedding kenduri (reception) and in time to see a powerful whirling wind rip off the roof and shatter some windows upstairs," said Minah Abdullah, 64, whose family has lived in the double-storey house for almost 30 years.
"Three of my children were upstairs and I shouted to them to come down to avoid something awful from happening," she said.
Ahmad Kamal Muda, 45, said he is sad because he had just repaired his house a few weeks ago and now the roof over the sitting room and back portion of his home is gone.
"I'm thankful my wife and children are safe. For now I'll just fix what I can, like placing a plastic sheet across where the roof was and pitching a tent as temporary shelter for us," he said.
State Local Government, Housing, Health and Environment chairman, Dr Alias Razak, said all the victims must report what has happened to the village community management council (MPKK) so that repairs can be carried out.
"The MPPK will make certain it is done as soon as possible, and after the repairs, a claim must be submitted to their respective State Legislative Assembly (DUN) offices.
"For the time being, there is no repair cost limit … what is important is the welfare of the people," he told Bernama.
-- BERNAMA