Grateful USM student volunteers in Food Bank Siswa programme

Last Update: 08/09/2019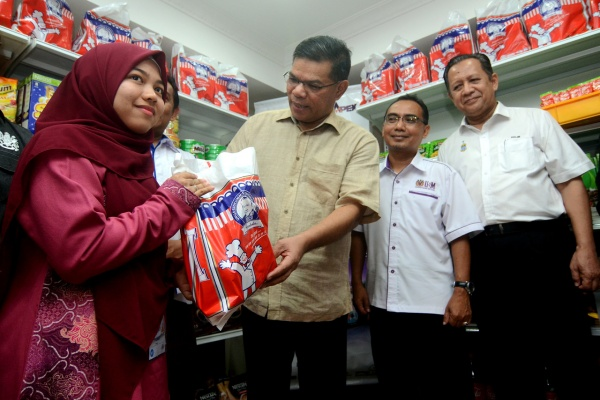 GEORGE TOWN, Sept 8 -- The Food Bank Siswa programme launched last March has benefited nearly 4,000 students at 12 public universities nationwide.
Domestic Trade and Consumer Affairs Minister Datuk Seri Saifuddin Nasution Ismail who launched the 12th leg of the programme at Universiti Sains Malaysia (USM) today, involving 350 students, said by 2020, it would have been expanded to 123 higher education campuses throughout the country.
He said private higher education institutions, polytechnics and teacher education institutes would be included in the programme by then, with priority given to students who come from lower income households.
He said the programme would help to ease the burden of the target group and enable the recipients to have peace of mind to focus on their studies.
Meanwhile, Muhammad Izzat Amran Ibrahim who initially wanted to defer his studies and sold 'petai' in Kelantan with his mother to earn his registration fees into USM but later after his plight went viral on social media received a windfall from caring Malaysians, is now a Food Bank Siswa volunteer.
"I am one of the recipients and did not hesitate to register myself as a volunteer in this programme as I want to contribute and assist other needy students," he told reporters when met after the Food Bank Siswa launch at USM.
Muhammad Izzat, who is the third of 12 siblings and son of a rubber tapper at Kampung Limau Kasturi 1, Gua Musang, said he was touched by the Malaysians who had come forward to lift him out of his predicament, and volunteering in the programme was a way for him to return his benefactors' gesture.
-- BERNAMA