A 10-day mural work, with a unity-theme that's one for the ages

Last Update: 08/09/2019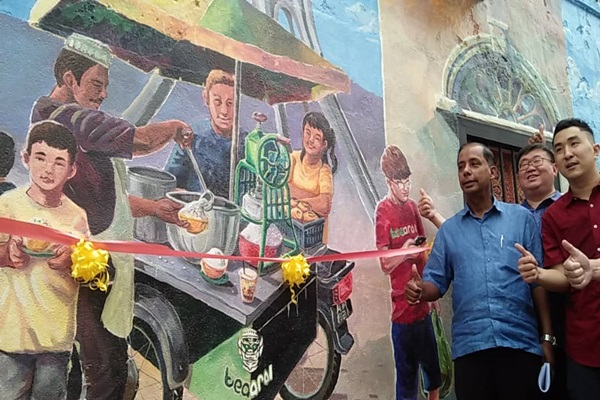 IPOH, Sept 8 -- It took only 10 days for a local artist to complete his unity-themed mural painting on a shophouse wall in Jalan Panglima, here last month.
Eric Lai, 43, said the mural painting he completed on Aug 16 was one of many concepts featuring Malaysia's multi-racial society to be enjoyed and appreciated by visitors here.
"The mural art is based on Malaysia's famous beverages and symbolising unity among the people, such as cendol, coconut water, and sugar cane drink that have been widely consumed by the various races since the country's formation," he said.
He was speaking at the launch of the opening of the Aroi Tea Shop and his mural painting in Pekan Lama by Human Resources Minister M Kula Segaran here today.
Eric said many of his mural works were self-funded, although they were some that were paid for, adding that his first mural painting was in Jalan Masjid in 2013.
"As for this particular mural, I began working on it from Aug 6, starting at 8am to 1pm and then continuing again from 4pm-7pm using weather-proof paint.
"Initially, the tea shop owners asked me to paint 'bubble' drinks on the wall but I expressed my intention to paint something more meaningful for the public, such as the concept of unity," he said.
The father of one also earns his living by teaching at the Art Gene Studio in Taman Ipoh Timur Baru, something he has been doing since 2006.
During the event today, visitors to the shop and passers-by were seen posing for pictures with Lai's mural in the background, which depicts three characters of different races selling their beverages - the Malay pakcik with his cendol dessert drink, the sugar cane drink Chinese uncle, and the Indian man selling coconut water.
"I feel proud that the people want pictures of themselves with my work. My next project is to re-paint the mural in Jalan Masjid as it has gone faded with time, so that tourists here will not only get to know the local delicacies but also the local art and cultural works," Lai said.
-- BERNAMA