Woman needs help to care for sick son

Last Update: 09/09/2019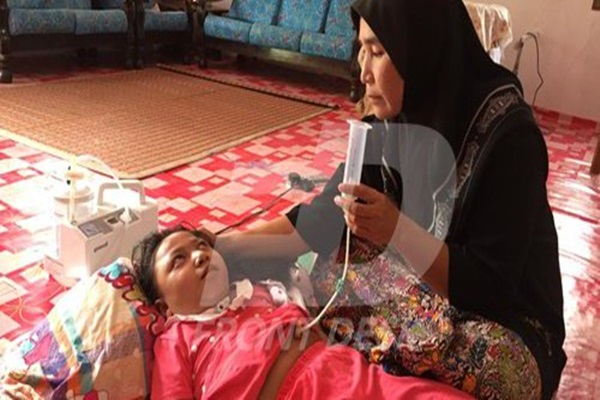 MACHANG, Sept 9 -- A housewife is seeking the generosity of the public to help raise funds to support her five-year-old son, who was born with chronic brain injury and lung disease.
Rosnani Mat Ghani, 44, from Kampung Banggol Judah here, said the boy, Adamia Fitri Mat Rahim, who is the youngest of five siblings, was born with Hypoxic Ischaemic Encephalopathy (HIE) and now had to rely on ventilation machine for oxygen.
"Adamia Fitri also has a left lung problem and his brain is shrinking...That's why he needs round the clock care and attention, " she said when met by Bernama at her house here today.
Rosnani, who received welfare aid of RM350 a month, said her husband, Mat Rahim Mat Hassan, 53, does odd jobs and is able to earn RM300 a week, but the amount is not enough to cover the cost of Adamia Fitri's treatment and support their other school-going children.
She said the family had to allocate nearly RM1,000 a month for Adamia Fitri;s expenses alone, and the amount included for his special milk, diapers and treatment.
"The special milk costs RM164 per tin and last for only 10 days as Adamia Fitri needs to have the milk six times a day, " she added.
Those wishing to donate to the family can do so through Bank Islam at account number 03045022050565 or call 014-8474223.
-- BERNAMA