Will sepak takraw be featured in Olympic Games soon?

Last Update: 10/09/2019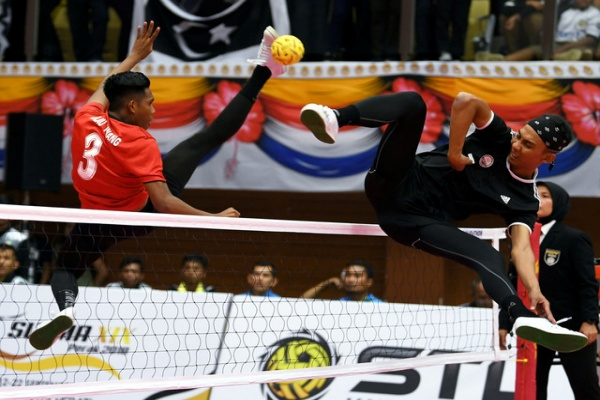 KUCHING, Sept 10 -- Chances for sepak takraw to be listed in the Olympic Games is brighter when the Olympic Channel has given the green light to promote the sport.
By entering the channel, it looks like the small first step to seeing sepak takraw in the Olympics in future while boosting Malaysia's chances of clinching its first gold medal in the Olympics.
The Olympic Channel is an over-the-top (OTT) global media destination where fans can experience the power of sports and the excitement of the Olympic Games all year round and it is available worldwide at www.olympicchannel.com 24 hours a day, 365 days a year in 11 languages.
International Sepak Takraw Federation (ISTAF) secretary-general Datuk Abdul Halim Kader said they were honoured to join the existing 91 other international sports organisations, who have reaped tremendous branding to be part of the Olympic channel.
"This partnership paves the way for ISTAF and the sepak takraw fraternity to showcase and extensively expose the sport of sepak takraw to a wider scope of the sporting world and the global populace.
"ISTAF is confident that sepak takraw will reach a much bigger audience and sow the seeds of development of sepak takraw throughout the Olympic Movement," he told Bernama.
The Olympic Channel announced that it has reached agreements with the international governing bodies for sepak takraw, armwrestling, chess, dragon boat, ice stock sport and livesaving to collaborate on the content.
The Global Olympic Channel in its statement said the new agreements include partnerships with the International Olympic Committee (IOC) which recognised the federations of International Chess Federation (FIDE), International Federation Icestocksport (IFI) and International Life Saving Federation (ILS).
In addition, the Alliance of Independent Recognised Members of Sport (AIMS) federations of International Dragon Boat Federation (IDBF), International Sepak Takraw Federation (ISTAF) and World Armwrestling Federation (WAF) join other international sports federation and multi-sport organisation worldwide which have previously announced similar agreements with the Olympic Channel.
"The Olympic Channel provides a platform for the promotion of all sports and athletes within the Olympic Movement," said Mark Parkman, the general manager of IOC's Global Olympic Channel.
The Olympic Channel actively works with its federation partners to present event coverage, highlights, magazine shows, news coverage and original programming to provide an additional platform to distribute content that are complementary to current broadcast and distribution arrangements.
-- BERNAMA