Kota Kinabalu police cripple motorcycle theft gang headed by teen

Last Update: 12/09/2019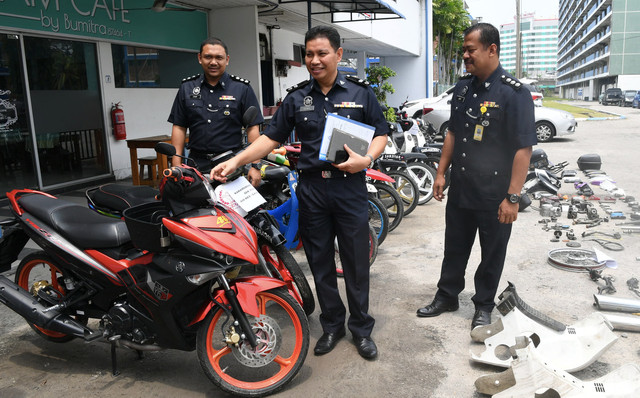 KOTA KINABALU, Sept 12 -- Police here have crippled a gang of motorcycle thieves with the arrest of all its eight members including the ringleader, a 17-year old teenager.
Dubbed 'Geng Afiq' the gang comprised three other local teens and four foreign youths who did not have any identification documents on them, said Kota Kinabalu deputy police chief Supt George Rakhman.
He told a press conference here today that following the arrests, 13 motorcycles were seized, of which 10 were Honda EX5 models together with several motorcycle parts.
He said Kota Kinabalu police set up a special team after receiving a report on July 15 of a missing motorcycle in the Wisma Sabah area here, from a businessman who rented out motorcycles.
He said the first in the series of arrests involved the 17-year-old mastermind and his 16-year-old assistant on Sept 5.
He added that a day later, the second round of arrests was made which involved four youths here, in Penampang and Papar.
Police arrested two more youths the following day, bringing the total number of those arrested to eight, he said.
He said six of the youths were mainly involved in dismantling the motorcycle parts which were later sold to interested parties.
George said 10 of the motorcycles had been reported missing in Kota Kinabalu and the other three in Tuaran. The value of the seized items including the motorcycle parts amounted to RM40,000.
He said the gang had been active since the beginning of this year and targetted Honda EX5 motorcycles.
He said all of them were still under remand. The case is being investigated under Section 379 of the Penal Code.
-- BERNAMA