PPM plans to turn several islands in Sabah into SCP

Last Update: 12/09/2019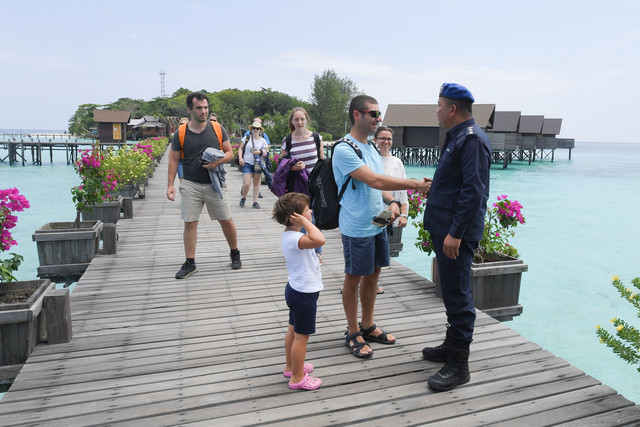 SANDAKAN, Sept 12 – The Sabah Marine Police Force (PPM) is looking at several islands in Sabah to serve as a Sea Check Point (SCP) to enhance the task of controlling security in the country's waters.
Its commander ACP Mohamad Pajeri Ali said the measure was to monitor barter trade as well as curb smuggling and cross-border crime activities.
"This includes making the Pulau Bakungan Kecil near the border of neighbouring country Philippines as SCP.
"Other islands to be designated as SCP are Pulau Karakit in Kudat, Pulau Aada in Lahad Datu, Pulau Sebatik in Tawau and Pulau Siamil in Semporna," he said.
He said this after observing Sandakan PPM operations in the waters, including visiting several islands near the border yesterday.
Mohamad Pajeri also said that PPM would take over the task of safeguarding the national waters of Pulau Tabawan, Kunak from the Malaysian Armed Forces (ATM) in the near future.
He said the island was a strategic area in curbing cross-border criminal activities because of its proximity to Lahad Datu, Kunak and Semporna.
On the safety of tourists on the resort island, he said PPM had always given priority to this aspect through regular patrolling.
PPM had also taken the initiative to meet with resort management and locals to ensure their safety and to gather useful information to enhance their security duties, he said.
He added they would also ensure the movement of tourist boats to the resort island was safe from terrorists without disturbance.
Mohamad Pajeri also said PPM has always been focused on curbing smuggling activities including smuggling of turtle eggs.
PPM had successfully seized about 9,000 turtle eggs for sale in the Sandakan market and handed over the eggs to Turtle Islands Park for the hatching process, he said.
Mohamad Pajeri also met with the Sabah Parks staff at Pulau Selingan, which houses the Turtle Islands Park headquarters, and the management of a resort on Pulau Lankayan Island and had the opportunity to welcome a group of tourists arriving on the island.
He also surveyed the Pulau Bakungan Kecil which is the nearest island to the Philippines.
-- BERNAMA