27 artificial reefs worth RM493,000 placed in waters off Rompin, Tioman

Last Update: 12/09/2019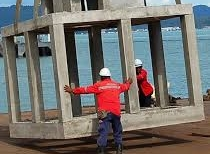 ROMPIN, Sept 12 -- Twenty-seven cuboid artificial reefs worth RM493,000 were lowered into the waters off Rompin and Tioman today by the Pahang Fisheries Department to enhance fishery resources and marine habitat in the areas.
Pahang Fisheries Department director Datuk Azahari Othman said of the number, 20 were placed in the waters off Rompin while the remaining seven, in Tioman.
"This is the third time that the reefs which serve as breeding grounds for fish and marine life as well as preventing trawling activities were anchored off Rompin and the second, off Tioman," he said adding that each artificial reef weighed 10 tonnes.
He was represented by Pahang Fisheries Department Resource Management and Licencing Branch head Ahmad Fa'idzi Kastolany at the launch at Tanjung Gemok Ferry Terminal here.
Azahari said the Pahang Fisheries Department had placed a total of 226 artificial reefs of various types in the waters off Kuantan, Pekan and Rompin, involving almost RM3.5 million over the last 10 years.
In his speech text read out by Ahmad Fa'idzi, the director said the artificial reefs would rip the trawling nets apart, causing huge losses to the operators.
He said the reefs would be placed at a depth of 15 metres and at a distance of five nautical miles off the coast of Rompin.
"In Tioman, the reefs are placed at a distance of two nautical miles off the coast and at a depth of 20 metres. This project can also help increase the income of traditional fishermen," he said.
Azahari said based on a study, various types of fish, coral and marine life would inhabit the artificial reefs within six months of installation.
-- BERNAMA