Kuching road closure in conjunction with Malaysia Day

Last Update: 12/09/2019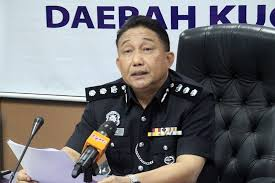 KUCHING, Sept 12 -- A number of roads and streets will be closed as early as 6 pm on Monday in conjunction with the Malaysia Day celebration at the new venue at Stadium Perpaduan.
Kuching District Police Chief ACP Awang Din Awang Gani said the routes involved were Kesuma Resort roundabout, Stadium roundabout, Jalan Stadium and the junction towards the Sarawak Shooting Range.
"The public are encouraged to use public transport while those using personal vehicles are advised to park at the special vehicle zone," he told a press conference at Kuching District Police Headquarters here today.
Awang Din said some roads in the city centre would also be closed for the parade float.
"The float will start at Dewan MBKS and move through Jalan Padungan; Central Timur; Tan Sri Ong Kee Hui; Taman Budaya; Badruddin, RTM traffic light, Jalan Abang Haji Openg; Barrack; Pearl, UOB Bank junction, Jalan Main Bazaar; Tunku Abdul Rahman; Abell, Sri Aman roundabout, Jalan Padungan and Icom Square.
"It will end at Square Tower, Kuching Waterfront around 11 pm. The closures at Jalan Main Bazaar and Jalan Gambier will be from 8.30 pm to 11 pm," he said.
Members of the public are advised to plan their journey, obey the traffic control signals and instructions by traffic policemen on duty.
Awang Din said the public are prohibited from parking on the shoulder of the road near Stadium Perpaduan and Kuching Waterfront to prevent traffic congestion.
-- BERNAMA