Assist Sungai Lembing fire victims rebuild their homes - Agong

Last Update: 14/09/2019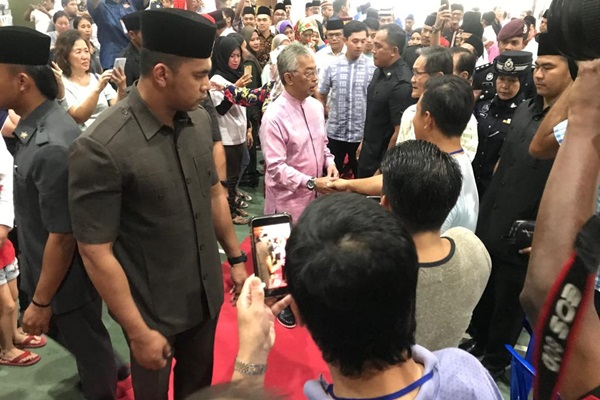 KUANTAN, Sept 14 -- All parties must help facilitate Sungai Lembing fire victims to rebuild their houses, said Yang di-Pertuan Agong Al-Sultan Abdullah Ri'ayatuddin Al-Mustafa Billah Shah.
Al-Sultan Abdullah said so far he was informed that most victims were temporarily staying with their relatives, while several families had no where to go.
"Priority must be given to those in need of housing.
"I was told that the buildings here are old and decrepit, this could be dangerous and I want this matter to be given due attention as this could lead to another fatal incident.
"I hope the residents can get ready (to move) and discuss with the authorities to find an alternative location because this place looks dangerous," he said.
The king today visited and presented aid to 29 families affected by the fire, at Sekolah Jenis Kebangsaan (C) Sungai Lembing here.
Also present was Raja Permaisuri Agong Tunku Hajah Azizah Aminah Maimunah Iskandariah and accompanying the royal couple were Pahang Menteri Besar Datuk Seri Wan Rosdy Wan Ismail and State Secretary Datuk Seri Dr Sallehuddin Ishak.
Al-Sultan Abdullah said that he would personally monitor the redevelopment of the affected area.
In the 1.30 am blaze on Aug 31, 20 two-storey wooden shophouses, 11 single storey houses and a library, were razed to the ground.
An elderly married couple, Ho Yuk Fun, 74, and Chow Kim Mui, 70, perished after being trapped in their two-storey wooden shophouse, which is where the fire was believed to have begun.
"I am saddened by the loss of two senior citizens in this incident," he said.
-- BERNAMA