The tanjak rules for a day at Dataran Batu Buruk

Last Update: 17/09/2019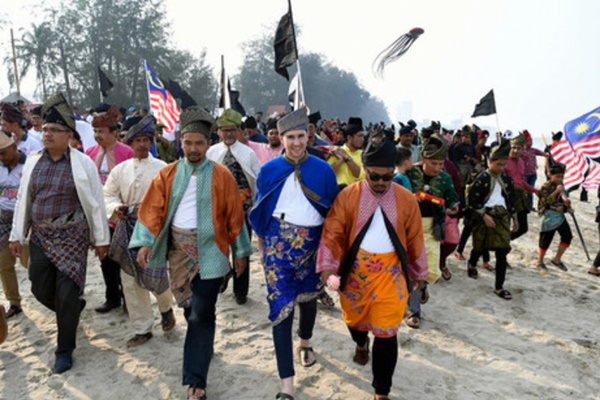 KUALA TERENGGANU, Sept 16 -- About 500 people, including cultural activists and the general public, wore various colours and styles of the tanjak (male headdress) and filled up Dataran Batu Buruk Batu this afternoon.
It was in celebration of the Malaysia Wears Tanjak Day campaign organised by the Tanah Melayu Facebook page owner Nur Ahmad Faiz Mohd Adni for the past five months.
However, in Terengganu the programme has been renamed 'Terengganu Wears Tanjak' in order to build its own identity.
Programme coordinator, Mohd Rafi Kori said most who participated comprised youth who seemed to have shown much interest and understanding of the importance of appreciating the Malay traditional attire that reflected the Malay identity.
Looking at the response, Mohd Rafi said he hoped to hold the event annually to showcase the uniqueness of the Terengganu Malay community to the public and as well as the tourists.
In fact, he would also suggest to the state government to hold a Terengganu attire day once a week to regain the dignity of the now-forgotten Terengganu Malay culture.
"There are also those who express their displeasure as some young people wear the tanjak with t-shirts or jeans as they deemed it as a sign of disrespect to the traditional headdress.
"But it is a good start for them to recognise the Malay culture that emphasises customs and manners," he said.
On a positive note, the 'Terengganu Wears Tanjak' campaign has also been able to create business opportunities to tanjak operators who have been short of income resources.
-- BERNAMA