Three detained in connection to armed robbery, random shooting in Johor Bahru

Last Update: 17/09/2019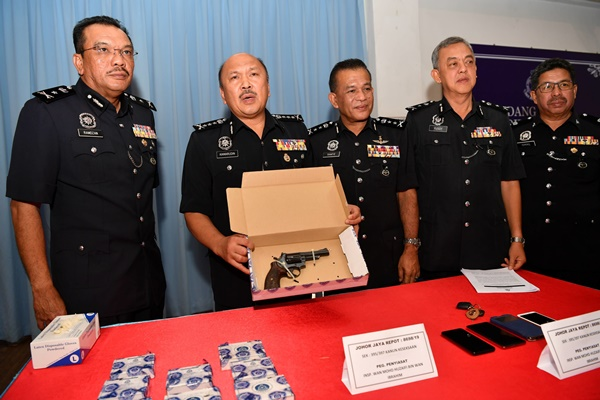 JOHOR BAHRU, Sept 17 -- Police detained three men on Monday and early this morning, believed to be connected to an armed robbery and random shooting case in a house in Jalan Tun Fatimah 2, Kangkar Tebrau, near here last Friday (Sept 13).
Johor Police Chief Datuk Mohd Kamarudin Md Din said two of the suspects were believed to have fired random shots which caused the death of a female senior citizen, aged 75, and injured a 17-year-old male youth.
He said also arrested a woman, believed to be the girlfriend of one of the detained men.
"Yesterday, at about midnight, members of the Crime Investigation Department tracked down a vehicle the three were in in the Pasir Gudang area.
"As police approached the car, the suspects acted aggressively by colliding into the police car, and police had to fire a shot at the tyres of the suspects' car, causing it to skid," he told reporters at a press conference at the Seri Alam District Police Headquarters here today.
Mohd Kamarudin said one of the suspects fired at the police, and the police officers had to shoot back to protect themselves, injuring the legs of the suspects.
However, only one male suspect and the woman were detained, while the other managed to escape.
Mohd Kamarudin said the woman was detained while she was in the car when it was chased by the police on Sept 16, and police are looking into her role in the robbery.
He said all the suspects were locals aged between 22 and 37 years.
"We also seized a revolver, a live bullet and a Myvi car, believed to be obtained in the robbery," he said.
Meanwhile, the male suspect who escaped was detained early this morning in a house in Plentong 24 hours later.
Mohd Kamarudin said the two male suspects were believed in a robbery of a man at the ATM in a bank in Taman Molek at about 7.45 a.m. last Saturday (Sept 14), escaping in the victim's Myvi Perodua car and with cash amounting to RM150.
"A check into the criminal records of the three suspects found that two of them had a history of robbery, house-breaking and drugs, while one was also in the 'wanted' list for robbery in Seri Alam in 2007.
"Meanwhile, urine tests on all three were positive for the drug methamphetamine," he said.
Mohd Kamarudin added that police were also investigating how the suspects had access to firearms.
The case is being investigated under Section 302 of the Penal Code for murder and Section 3 and 4 of the Firearms Act 1960.
-- BERNAMA