Police seize drugs worth RM1.4 million, arrest six men

Last Update: 17/09/2019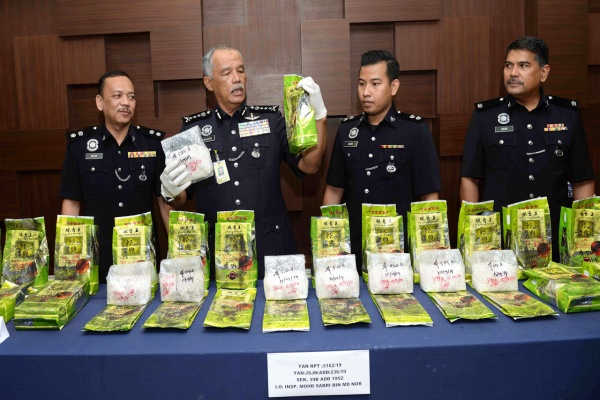 ALOR SETAR, Sept 17 -- Police seized drugs worth RM1.4 million and arrested six men believed to be members of a triad called 'Geng 35', and aged 19 to 28, in three separate busts at a guest house in Yan, on Sunday.
Kedah police chief Datuk Zainuddin Yaacob said a team from the Narcotic Crimes Investigation Department at the state's police headquarters, had apprehended the first two of the men when they were spotted in a car near the guest house at about 1am.
The drugs weighing 28.8 kilogrammes were discovered in 28 plastic packages placed in two red bags on the floor near the back passenger seat.
At 2.15am, police arrested another two men who had arrived in the area in another car, while the remaining two of the six suspects were arrested when they reached the same area at about 4am in two cars bearing a total of six men - the four other men in the cars managed to escape in the same vehicles.
According to Zainuddin who was speaking at a press conference today, initial investigations indicated that the drugs which could meet the demand of some 56,000 addicts, were from a neighbouring country and meant for sale in the Yan, Sungai Petani, Kulim and Alor Setar areas.
All six suspects tested negative for drugs, while three of them possessed previous criminal records, he said, adding that the group had been remanded until Sept 21 to facilitate continuing investigations in accordance with section 39B of the Dangerous Drugs Act 1952.
On a related matter, Zainuddin said a total of 8,436 people comprising 2,415 drug traffickers and 6,021 drug addicts had been arrested in the state from January to Sept 16, marking a 34 per cent increase compared to the same period last year - drugs worth RM10.6 million had been seized in connection with the arrests this year.
-- BERNAMA