UMT committed to efforts in enhancing freshwater prawn population

Last Update: 18/09/2019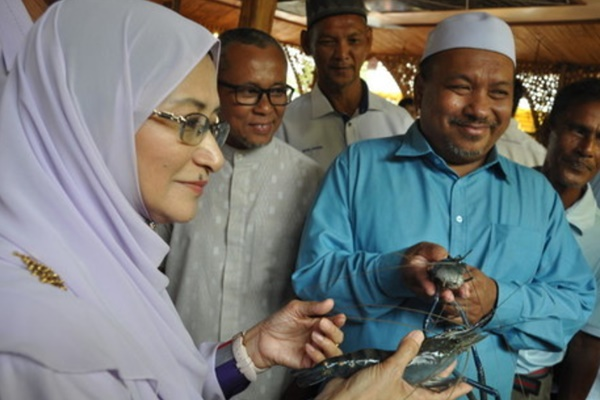 SETIU, Sept 18 -- Universiti Malaysia Terengganu (UMT) will continue to intensify its conservation research activities, in efforts to maximise shrimp population and yield, to help the fishing community living around Sungai Nyatoh, here.
Its vice-chancellor Prof Datuk Dr Nor Aieni Mokhtar said the two-year research being carried out through a grant of RM300,000 under phase two of the B40 Community Empowerment Translational Research project took off in April this year.
She said the programme is a continuation of the phase one project where researchers from the UMT Institute of Tropical Aquaculture and Fisheries Research (Akuatrop) conducted a series of studies on shrimp population at three freshwater prawn natural habitats at Sungai Paka, Sungai Nyatoh and Sungai Terengganu (Manir) ).
"According to the biological markers the prawns thrive well in Sungai Terengganu (Manir) and Sungai Paka and as the shrimp population was less abundant in Sungai Nyatoh, it was decided that the research for this area be included for the second phase of the project," she said after releasing 200,000 shrimp fries in Sungai Nyatoh here today.
She said the programme could benefit about 100 fishermen who depend on the catches from the river as their source of income.
Apart from releasing the shrimp fries, Nor Aieni said UMT would also be training 20 individuals from the local community in preparing freshwater prawn fries, as transfer of knowledge to the public.
The university is also working with the Terengganu State Fisheries Department on the selection of participants, comprising fishermen and cage fish breeders for the programme.
"The training to begin in November which will integrate both theoretical and practical courses on prawn fry production, right up to the post-larvae process will take 40 days," she said.
-- BERNAMA