Cigarettes, frozen chicken and firecrackers worth RM1.5 million seized

Last Update: 18/09/2019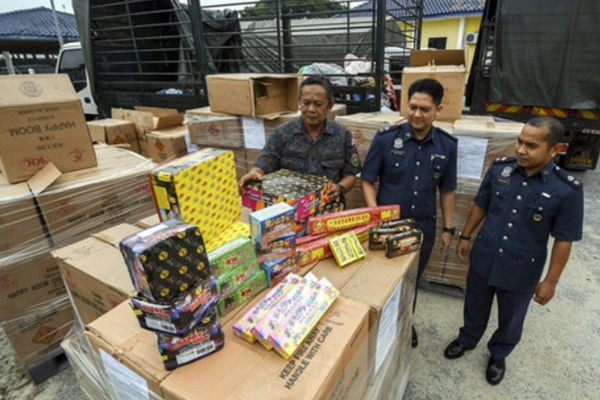 KOTA BHARU, Sept 18 -- The tactic of concealing 5,250 cartons of cigarettes within a pack of disposable diapers in a lorry was foiled when members of Malaysia's Border Control Agency (AKSEM) raided a site in Kampung Padang Kabu, Banggu here last night.
Kelantan AkSEM commander Rusli Karim said the seizure, following a public tip-off,was worth RM652,680 including tax.
He said the raiding team managed to locate a truck parked near a house at 7pm.
"The truck was searched we found packages containing disposable diapers in the back of the truck.
"A thorough search revealed that there were dozens of boxes containing Saat brand cigarettes hidden in the packages," he told a news conference at the Royal Malaysian Customs Office (JKDM) at Padang Bongor here today.
All the seized items including a lorry worth RM702,680, were taken back to the Kelantan AKSEM Office and the case was referred to the JKDM for further investigations under Section 135 of the Customs Act 1967.
In another development, Rusli said AKSEM also seized a lorry carrying 172 boxes of firecrackers and fireworks worth RM179,480 including tax and detained two men aged 28 and 51 respectively along Jalan Gua Musang-Kuala Lumpur on Friday (Sept 13).
In another incident, Rusli said, AKSEM also seized 2,400 boxes containing RM96,000 worth of frozen chicken near the Fisheries Development Authority of Malaysia (LKIM) collection centre in Rantau Panjang, Pasir Mas on Sept 8.
"The chicken's halal status is questionable in addition to being contaminated with bacteria as there were no documents during the arrest. The case was referred to the Malaysian Quarantine Department (MAQIS) for further investigation, "he said.
-- BERNAMA