Michael Wong to promote Perak in his music videos

Last Update: 20/09/2019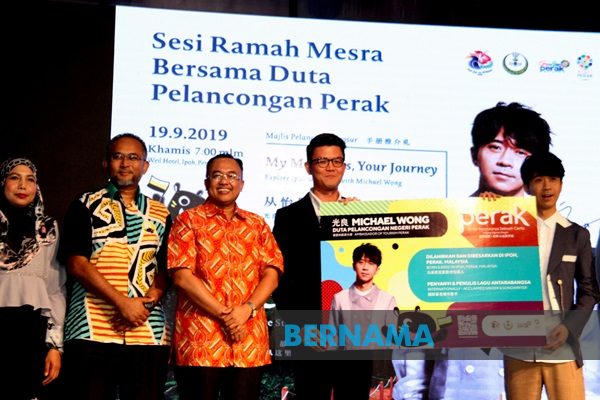 IPOH, Sept 20 -- International artiste Michael Wong Kong Leong will kick off his tenure as Perak Tourism Ambassador by filming music videos of his popular songs at several locations in Perak including the Royal Belum State Park and Ipoh city.
State Tourism, Arts and Culture Committee chairman Tan Kar Hing said the video filming was part of the first phase of Michael Wong's tenure as Perak tourism ambassador for two years from Aug 1, this year, to July 31, 2021.
"In addition, we have published brochures of 10 places related to Michael Wong including his schooling years at the Sekolah Menengah Jenis Kebangsaan (SMJK) Sam Tet Ipoh as well as places he frequented as a child such as the Kellie Castle, KTMB Ipoh Station and St Michael's Church.
He said the selection of Michael Wong as Perak tourism ambassador would cover four phases.
"This is only the first phase and the next three phases will be announced from time to time," he told a press conference after attending the get together with Perak tourism ambassador here last night.
Meanwhile, Ipoh-born Michael Wong said he felt very honoured when the state government selected him as Perak tourism ambassador.
"I will promote my beloved hometown to the rest of the world particularly among foreign tourists to visit Perak because the state has many interesting places and food to offer.
He said among several of activities he would do as the state's tourism ambassador would include filming tourism promotional videos in several locations including Ipoh and the Royal Belum State Park.
Among Michael Wong's most popular songs include Fairy Tale which was translated into various languages ??including Malay, Cantonese, Japanese, Korean, Thai and Vietnamese, as well as other tracks such as First Time, Sadness Subway and Promise.
Prior to this, Michael Wong was appointed as the Malaysian Tourism Ambassador from 2006 to 2010 and he was also appointed by the Health Ministry as the Malaysian Medical Tourism Ambassador in 2011.
-- BERNAMA