Cops tying loose ends to establish factory fatal attack motive

Last Update: 24/09/2019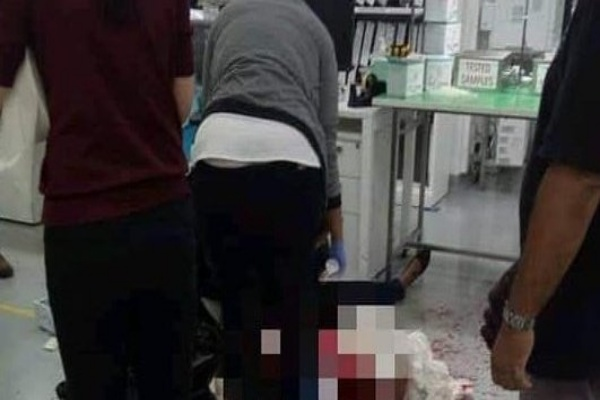 GEORGE TOWN, Sept 24 -- Police are still working on finding out the motive behind the amok attack at a factory in Bayan Lepas, here yesterday, in which a man slashed a colleague to death and seriously injured another.
Penang police chief Datuk T. Narenasagaran said his investigating team were accumulating information, including recording statements from family members, housemates and colleagues of the attacker, who was eventually shot dead by police, to determine what prompted him to turn aggressive.
"There have been lots of speculation on the incident but let the police investigate the motive. I am urging the public to refrain from spreading inaccurate or unverified information as this will jeopardise our investigations," he told reporters after attending a seminar on international security here today.
In the 4.45 pm incident, a 25-year-old worker from the factory ran amok and slashed a female supervisor and security manager using a parang.
Southwest district police chief Superintendent A. A. Anbalagan said the 47-year-old victim died from serious injuries while receiving treatment at the Penang hospital.
Narenasagaran said based on preliminary investigations, the man had entered the factory and slashed the woman repeatedly on her head and hands.
"The other victim, a 53-year-old security manager, who got hold of what's going on tried to help the woman but was also slashed in the process. He is still being treated in a private hospital in Bayan Lepas and is reported to be in stable condition.
In another development, Narenasagaran said police have not ruled out the possibility that the sale of MyKad and birth certificates by National Registration Department (NRD) staff in the state had long been in operation.
"It is possible that it has been operating for some time and there has been several levels of the syndicate uncovered and that is why police have to conduct detailed investigations. We are not ruling out the possibility that this is also happening in the other states," he said.
Six men in their 30s to 60s were charged in the Sessions Court here earlier this month in connection with the issuance and sale of MyKads to foreigners.
They faced separate charges under the Security Offences (Special Measures) Act 2012 or Sosma, the Anti-Trafficking in Persons and Anti-Smuggling of Migrants (ATIPSOM) Act 2007 and Section 466 of the Penal Code.
Bernama had reported how the police and several other government departments exposed a syndicate, masterminded by a Penang NRD officer, behind the issuance and sale of MyKads to Chinese nationals in the state.
The syndicate was exposed last May after Immigration officers lodged a police report against a foreigner who tried to apply for a passport using a genuine MyKad, but could not converse in Malay.
Police went into action and in their investigations found that the syndicate had been raking in profits of between RM100,000 and RM600,000 from the sale and issuance of MyKad to foreign nationals.
-- BERNAMA