Acetone spill: Evacuated families still not allowed to return home

Last Update: 27/09/2019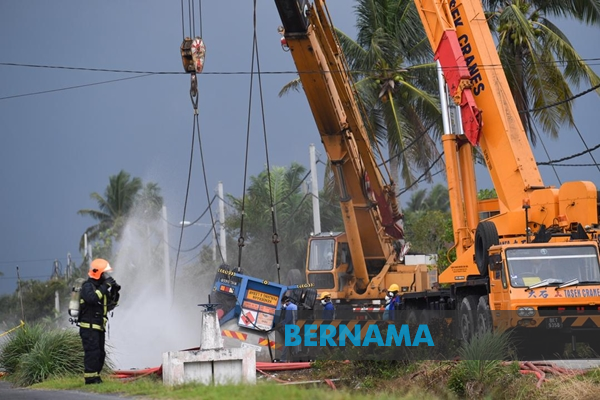 IPOH, Sept 26 -- Three families at Kampung Parit Mentara 3, Bagan Serai who were evacuated yesterday because their homes are within a 100-metre radius of an acetone spill are still not allowed to return.
Perak Fire and Rescue Department operations assistant director Mohamed Yunus Abu said the preventive step was taken to ensure the families comprising 10 people are not affected during the operation to relocate the overturned trailer.
"The residents are not allowed to return home yet as the movement of the crane and workers would disrupt their daily activities," he told Bernama when contacted here tonight.
On Wednesday, a trailer carrying more than 20,000 litres of acetone travelling from Klang, Selangor to Penang skidded and plunged into a canal at about 5 am.
Acetone is a colourless chemical liquid, highly flammable and is often used as a solvent in paint and nail polish.
According to Mohamad Yunus, the operation to lift the trailer was delayed this evening after one of the cranes was struck by lightning and experienced electrical problems at 3.30 pm.
"The work to relocate the trailer started at 2 pm before heavy rain forced the operation to be halted temporarily.
"We hope the crane will be repaired immediately and the efforts to remove the tanker will be continued," he said.
The fire department also confirmed that no hazardous substances were detected in the air around Kampung Parit Mentara 3 following the chemical spill.
-- BERNAMA