PGA7 seizes items worth over RM770,000 in Malaysia-Thai border op

Last Update: 29/09/2019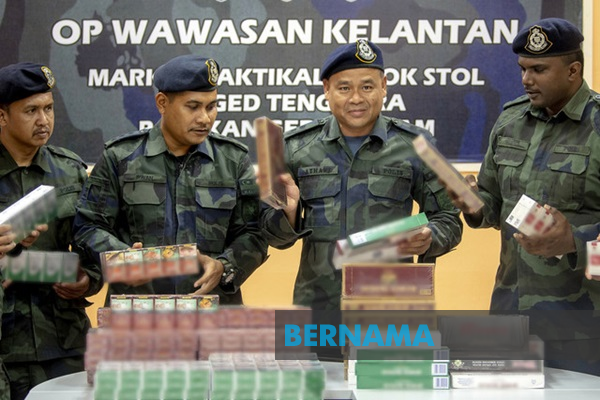 PASIR MAS, Sept 29 -- Items worth RM774,537 from a total of 43 cases were seized during a 14-day operation dubbed Ops Wawasan by the 7th Battalion of the General Operations Force (PGA7) at the Malaysia-Thailand border.
Its commanding officer Supt Azhari Nusi, said 22 vehicles were also seized while 25 people including 10 illegal immigrants were detained since the operations began on Sept 15.
He said in the latest case last night, the team managed to seize kretek and white cigarettes valued at RM21,960 which were believed to have been smuggled from a neighbouring country.
The raid was carried out after members of the team who were patrolling on their motorcycles through Jalan Kasban, spotted three men unloading boxes and parcels from the banks of Sungai Golok.
"As soon as the team approached, the trio fled in a vehicle leaving behind the items at the site.
"Team members on checking the boxes and packages found several brands of cigarettes namely TEX, Solar, D&J, Gudang Garam and Minna which were believed to have been smuggled here," he told reporters at a press conference at the PGA Tactical Headquarters in Lubok Setol, here today.
He added that the confiscated cigarettes would be handed over to the Royal Malaysian Customs Department (JKDM) for further investigations under Section 135 (1) (d) of the Customs Act 1967.
Azhari said the largest seizure carried out during the operation involved 24 heads of cattle and 29 heads of goat worth RM454,860, where two individuals were also detained.
He added that PGA would work closely with other agencies including the Domestic Trade and Consumer Affairs Ministry (KPDNHEP) to curb the smuggling of contraband items.
-- BERNAMA