Residents in Mersing ready to face scheduled water supply

Last Update: 30/09/2019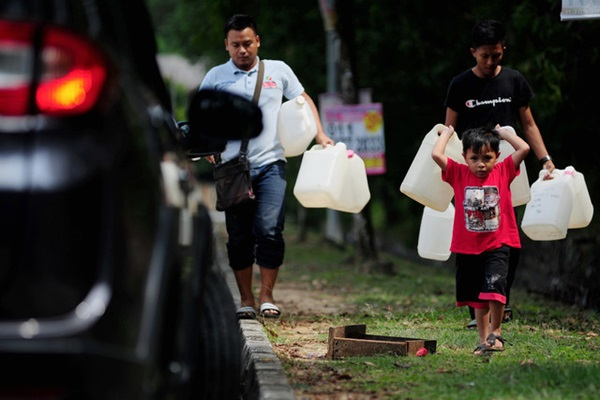 MERSING, Sept 30 (Bernama) -- Residents here have been taking precautionary measure by keeping an adequate supply of water as a preparation to face the implementation of Scheduled Water Supply (BAB) in most areas of the district soon.
It will be the first BAB to be done in the district.
Latifah Talib, 59, from Felda Endau, said she had been living in the district for 40 years and it was unusual for the district to face water supply disruption to the extent of having to implement the BAB.
"Usually, water disruption will only take one day, mainly because they want to clean the water treatment plant.
"This time around, it is quite difficult as we have been notified that there will be water for two days, and no water for one day, and that it will go on for a month," she told Bernama here today.
For that, she said she had bought several large drums to keep an adequate supply of water for daily use and purchased bottles of mineral water for drinking purposes.
"I also have a small vegetable farm which I need to water every day. So, I'm glad that we get an early notification to prepare for the BAB," said the mother of seven.
Mohamad Azizi Zainal, 22, from Kampung Triang Besar here, said he and his family had begun keeping water in large drums for daily consumption over the past few days.
"We don't want a hectic situation, especially as my father Zainal Abdul Jamal, 48, also has a farm. It's important for us to ensure a sufficient supply of water for our consumption and also for the farm.
"It's quite worrying if we don't have enough water as my younger siblings are still schooling and my mother, Zailani Mohamad, 44, is in the process of recovering from a stroke," said the third of five siblings.
Asyiedha Ranee, 34, from Kampung Semaloi, said she too had been purchasing large bottles of mineral water since last night.
"We used to read about other people in other districts or states facing water disruption, and now we are facing it ourselves.
"We'll hold the istisqa prayer for heavy downpour soon and that the water level at the dam would rise," she added.
Yesterday, Johor International Trade, Investment and Utility Committee chairman Jimmy Puah Wee Tse was reported as saying that the BAB would be implemented in part of Mersing district soon after the water level at the Labong Dam reached the stop production level.
The implementation of the BAB will affect 4,987 accounts with 25,000 consumers.
-- BERNAMA