D'CZ Restaurant provides business opportunities to Felda Chini's single mothers

Last Update: 03/10/2019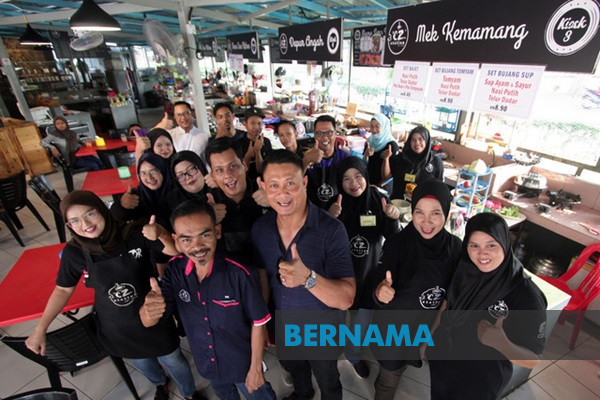 PEKAN, Oct 2 -- Passing through the only roundabout in Bandar Dara Chini near here, one could not miss a big grey eatery called D'CZ Restaurant with 10 different food stalls under its roof.
The eatery might not look any different from other eateries, but it is the 'heartbeat' to local Felda Chini people with the single mother status.
Its owner, Datuk Zairul Asmadi Mohd Sabies said the eatery, which has been operating since 2018, has 30 employees with most of them being single mothers.
"I intended to provide a business platform for them. Here, they could set up a stall for only RM10 per day for the water and electricity bills. We also provide the kitchen equipment for them.
"Prior to this, they sold food products on a small scale (online) on Facebook social site. So I invited the one with the most customers and followers to set their business here," he told Bernama when met at the business premises.
The eatery operates in two sessions, from 11am to 3pm and from 4pm to 1am.
The 43-year old owner applied the no-two-same-dishes concept, hence, there are over 100 different dishes that could be found here ranging from western cuisine, nasi lemak, different noodles and ala-carte dishes.
Zairul Asmadi, who also hails from Felda Chini, is very strict in terms of discipline towards his employees as he does not want them to waste the opportunity given. Moreover, he was a teacher, hence he believed in discipline.
"I emphasised the professional aspects, even though we are running a business in the Felda area. That is why we provide them with formal clothing and apron. Even, the positioning of the stalls is organised in a way for the stalls to look presentable to the customer.
"The payment method is also done according to a system. They will receive the money from their sales on the next day. We take note of the sales so that if something goes wrong, appropriate measures can be taken as soon as possible," he said.
He also explained that a warning letter would be issued to an employee who failed to open their stall for two consecutive days without good reason, and periodic inspections were also carried out to ensure that they complied with the hygiene and clothing regulation. This included wearing shoes.
"Some may think that my way is too serious for an eatery in a Felda area, but I want them to understand that doing business is hard so that they would indulge in their businesses wholeheartedly," he said.
After all, he has put up a huge investment to build D'CZ Restaurant with a capital of RM350,000.
To attract more customers, he organised a busking show on weekends as well as themed nights.
Drink stall operator, 38-year-old Zuraini Jamaluddin, described the opportunity given as additional sustenance for her and her three children aged from 10 to 20. She also has a hair salon business that she operates during the day while working at the eatery in the evening.
"I cannot rely on earning from the salon because it fluctuates, but at the same time, as the children are growing up, my daily expenses are increasing.
"This restaurant is like a support group for us (single mothers) too because we know the hardships of being a single mother, so if we have any problem, it's easier to open up," she said.
Meanwhile, another employee, Nor Amira Marzuki, 26, who lost her husband two years ago, said the trust given by her employer (Zairul Asmadi) made it easier for her to manage her six-year-old child.
"On working days, I am allowed to go out for a while to meet the needs of my child, while on weekends I could spend the whole day with my child.
"Apart from that, the boss (Zairul Asmadi) frequently arranged activities for our children so that they would gain more experience, such as a trip to the water park," she said.
-- BERNAMA