Single father steadfast in looking after three special needs children

Last Update: 03/10/2019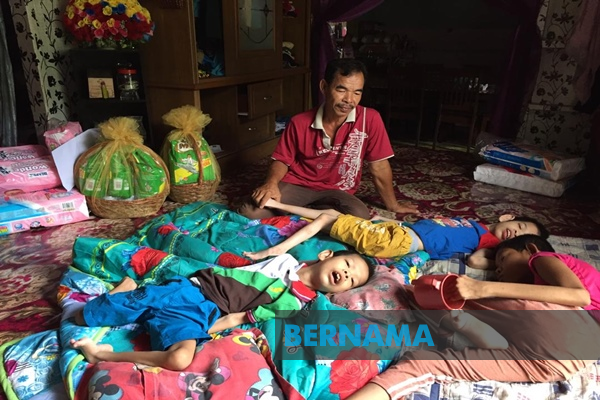 TUMPAT, Oct 3 -- It's no easy task to take care of a child with special needs, moreover if one is a single parent.
However, Mohd Zain Abdullah, 53, has not one, but three children - Khairul Nisaa', 25, Muhammad Amir, 18, and Ain Husna, 17 - who were diagnosed with cerebral palsy since they were babies, and have been bedridden since.
He said it was not easy to manage his three special children, but he was steadfast in remaining committed to his responsibilities, especially after his wife, Noraini Ismail, died from breast cancer two years ago.
"My wife's last wish for me take care of these children is deeply ingrained in my heart, and it keeps me strong and steadfast in taking care of these 'special children," he said when met by reporters at his home in Kampung Kok Keli here today.
Earlier, Mohd Zain, was visited by a delegation from Malaysia Airports Sdn Bhd (MASB), led by Sultan Ismail Petra Airport manager Ahmad Fikri Samsudin, to provide donations in the form of daily necessities, disposable diapers and cash.
Mohd Zain said he only worked as a housebuilder around the village on a part-time basis, with the rest of the day spent managing his three children.
"It's not that my other four children do not take care of these three 'special ones' but I am the only one who can take them to bathe, as lifting them requires strong energy," said the father of seven.
He said two of his elder children, Umi Shamira, 26, and Mohd Amar Aizat, 21, also helped him manage the three special children, including feeding them.
Mohd Zain said although his income was uncertain, he was grateful to the Social Welfare Department (JKM) for providing RM1,050 in monthly assistance for his three special children.
Meanwhile, Ahmad Fikri said MASB felt compelled to extend help to Mohd Zain's family after their plight went viral on social media.
He said the assistance given today was from contributions made by MASB staff as well as other individuals, and was also part of the company's corporate social responsibility (CSR).
Members of the public who wish to help Mohd Zain, can also make direct contributions to his Bank Simpanan Nasional (BSN) account number '0310829000087596'.
-- BERNAMA