Factory worker pleads for help after son diagnosed with stage 4 cancer

Last Update: 05/10/2019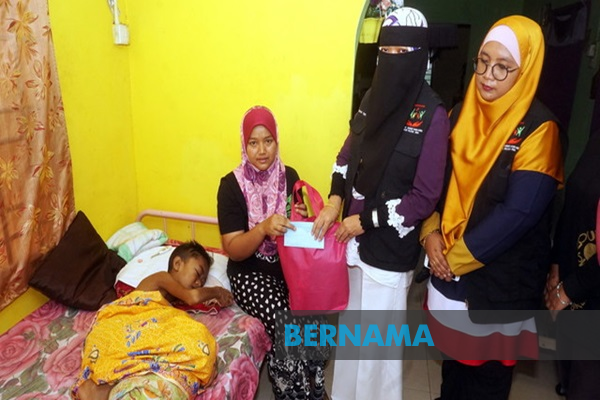 ALOR SETAR, Oct 5 -- The Friends of Childhood Cancer (Northern Region) visited the home of a factory worker to hand over cash and food assistance to help alleviate her burden in caring for her 11-year-old son who has been diagnosed with stage four Neuroblastoma (nerve-related cancer).
Its chairman Maznah Tayib said the patient, Muhammad Saiful Nizam Mohd Safizan was among 300 children with cancer registered in Kedah, and had received assistance from the association since 2016.
Muhammad Saiful Nizam's mother, Nor Sakilawati Omar, 33, said he was diagnosed with cancer in February last year, and she and her husband have had to take considerable time off work to care for their son who experiences severe body aches and fever.
"My husband and I work at the same factory in Asun, Jitra, with a daily wage of RM100, but since our son fell ill, we have often had to take leave, and our monthly salary has now dropped to about RM1,400 a month.
"What's worse is when the doctors said that the cancer cells had reached his brain, and that he could only survive for two months," she said when met by reporters at his home in Kampung Kubang Pangas here today.
According to her, Muhammad Saiful Nizam began experiencing long bouts fever and had trouble passing motion since February last year, and after further examination at HSB, the doctors discovered a tumor on the upper part of his kidney.
"He then had to undergo chemotherapy sessions for the past eight months, and although the treatment had been completed, the cancer cells came back, and he constantly complains of feeling hot and having joint pains with both eyes swollen and burning, so much so they have to be covered with wet cloth to relieve the pain," she added.
Nor Sakilawati said the family's current income was not enough for daily expenses as well as trips to the Sultanah Bahiyah Hospital (HSB), as they also needed to look after another seven-year-old child.
Members of the public who would like to help can contact Nor Sakilawati at 017-4205528, or channel donations to her RHB account numbered 10205000050625.
-- BERNAMA