Banjar community in Kerian still preserving its customs

Last Update: 05/10/2019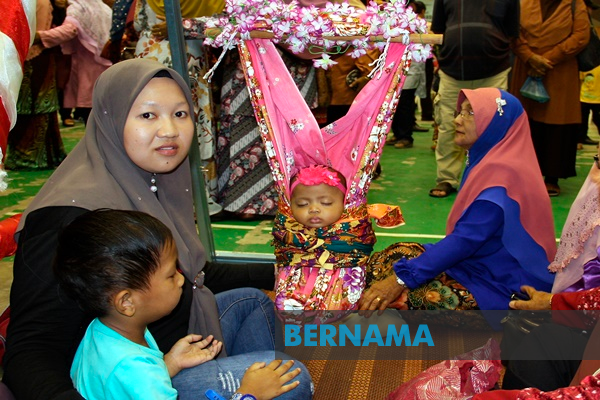 BAGAN SERAI, Oct 5 -- The practice of putting a baby to sleep in a hanging cradle has part and parcel of the customs of the Banjar community in Kerian known as 'bapukong which has been adopted by others and should be preserved.
Banjar women leader Asmah Ramli, 76, said bapukong is a custom still practised by the Banjar community here, especially when parents have to go down to the fields as Kerian is the padi growing centre of Perak.
"The Bapukong way uses cloth that is turned into a hammock to allow young children to sleep while their parents work on the fields.
"It is then tied to the huts in the padi fields and babies from the five-month-old up to a year are comfortably put in the hammock," she told Bernama when met at the 2019 Banjar Entrepreneurship and Culture Carnival Programme at Datuk Zainal Abidin Zin Hall here today.
A host of cultural events and performances of the Banjar community are held during the two-day carnival which began today.
The former principal of Sekolah Kebangsaan Tebuk Matau here, said this custom should be maintained so that future generations could continue to appreciate the culture of Banjar and not be lost in time.
Asmah also shared another custom known as 'Ayuhak Basuran' or chatting among Banjar people when meeting friends or neighbours.
Carnival director Azlan Loke, 42, said the programme was organised to provide knowledge and highlight the customs for the benefit of the Y generation as well as helping small entrepreneurs promote their products.
"The carnival is also a hub for introducing traditional Banjar food that is still available in the district," he said.
He hoped that the program would be held annually and included in the Visit Perak Year calendar in an effort to introduce the Banjar community.
-- BERNAMA