Mardi introduces MR 12H hybrid padi variety

Last Update: 06/10/2019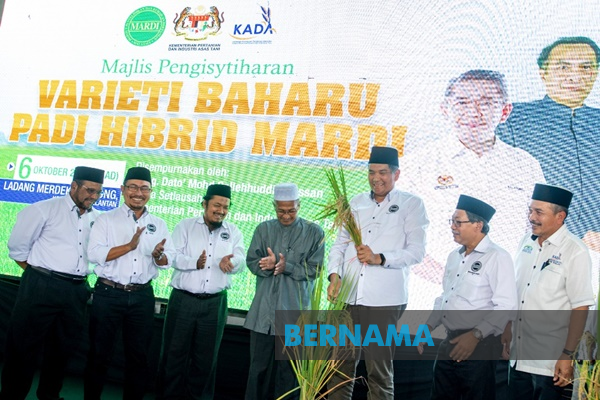 KOTA BHARU, Oct 6 -- The Malaysian Agricultural Research and Development Institute (Mardi) has introduced the country's first hybrid padi known as MR 12H.
Its director-general Datuk Mohamad Roff Mohd Noor said the speciality of this 50th padi variety developed since 2007, lies in its early maturity taking about 104 to 106 days after sowing, as well as its resistance to diseases.
"Cross breeding between the 25A and 4R varieties has resulted in the MR 12H and this is the first hybrid padi suitable with the Malaysian environment and its taste well-accepted by most of the people," he said when announcing on the MR 12H hybrid padi at Ladang Merdeka Mulong here today.
Also present were Agriculture and Agro-based Industry Ministry secretary-general Datuk Mohd Sallehuddin Hassan, Kemubu Agricultural Development Authority (KADA) general manager Nik Roslan Idris and Kelantan Mardi director Zainuddin Zakaria@Hussin.
Mohamad Roff said the average yield of the MR 12H variety in Mulong and Teratak Pulai was around 7.1 to 7.3 tonnes per hectare with an increase of about 20 per cent, as compared to the MR 297 variety grown in the same area.
"At Mardi Tanjong Karang, the strain was seen to withstand the effect of waterlogging during the vegetative stage for two weeks without significantly affecting the yield. The soft rice texture is also acceptable to consumers," he said.
The padi seeds would be distributed to farmers at the beginning of the second padi planting season next year.
Meanwhile, Mardi in a statement said this new padi hybrid is suitable for cultivation in moderately fertile land areas and has the potential to produce long-grain padi with yields of 12.2 tonnes per hectare, adding that farmers would need to buy new seeds for each season.
-- BERNAMA