Felcra settlers perform special prayer to resolve land acquisition issue

Last Update: 07/10/2019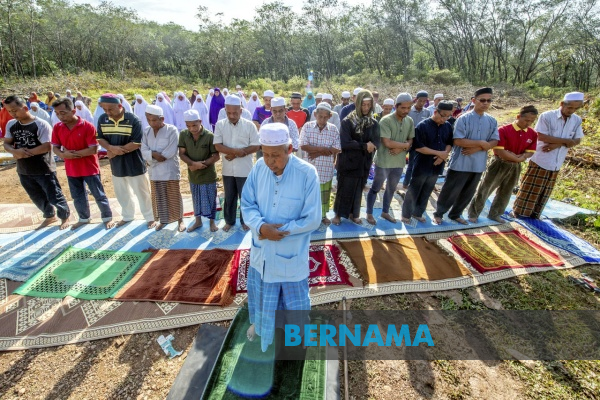 PASIR MAS, Oct 7 -- More than 100 settlers in the Bukit Tandak Felcra scheme, Rantau Panjang, here, performed 'solat hajat' (prayer for special intention) as a last resort to resolve the issue of land acquisition by the state government.
The prayer, starting at 9.30 am and led by the imam of Masjid Felcra Bukit Tandak, Yusof Mamat was also attended by women and children.
Settlers' representative, Mohd Rodzali Mat Noor said the prayer was to ask the state government to be open and accord justice to the settlers here.
He said most of the settlers had been working on the rubber plantation for 40 years and it was unfair of the state government to label them as 'intruders'.
"This land has been developed by us since the 1960's and it is we who had brought it to life as it is today.
"We swear that we are not intruders and do not take people's land. The state government should have compassion for us settlers and find a fair solution," he said when met here today.
Mohd Rodzali, who is also a member of the Participants Development Committee (AJKKP), said there were 348 settlers here but the number had changed.
He said the settlers had previously called for a discussion with the state government but it was rejected and instead had resulted in the cutting down of the rubber trees since a week ago.
On the 1.2-hectare land offer deal to each of the settlers, Mohd Rodzali said the matter was actually raised but there was no 'black and white'.
"The settlers had been paying off over RM6 million in debts since 1989 and the amount was fully settled by 2004.
"We also learned that the state government has already received over RM4 million from one company for the cost of cutting down the rubber trees covering 689 hectares here," he said.
-- BERNAMA