Mersing entrepreneur plans to market pufferfish souvenirs overseas

Last Update: 10/10/2019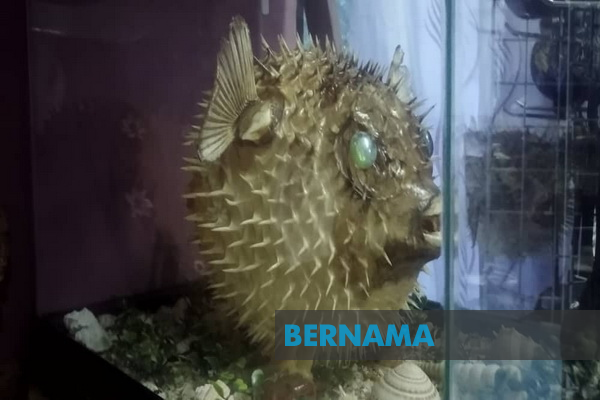 By Nur Faradilla Mohamad
MERSING, Oct 10 -- Having produced decorative items based on pufferfish for the past three years, entrepreneur Kassim Hassan has set his eyes on exporting his craft overseas.
Kassim, 57, from Kampung Bahagia here, has produced more than 3,000 decorative items using dried, inflated pufferfish, as well as those made from coconut shells, including pots, stationery and key chains.
The entrepreneur, who received guidance from the Mersing small and medium enterprises (SME) inherited his father's artistic and creative talents and began selling his products actively for the past three years.
"Most of my customers are from around Mersing as they would come to order or buy directly at home, but I also sell my products at the premises (of other traders) located in the tourist areas of Air Papan near here, as well as in Langkawi, Kedah.
"I wish to expand my business, not only for the domestic market but also to the neighbouring countries such as Singapore, Indonesia and Brunei, as part of adding cheer to the Visit Johor Year 2020 campaign," he said when met by Bernama at his home here today.
Describing the process of turning the poisonous pufferfish into a decorative item was hard, Kassim said he was also exposed to danger as he had to carefully remove the fish bones and internal organs without using gloves.
"This is because I find it difficult to gut the fish wearing gloves despite possible injuries because the thorns are very sharp.
"After it is gutted, I will place the balloon inside before sewing the stomach again and then blow the balloon to inflate it, before hanging it to dry for a month to make sure the fish is completely drained of any slime and to rid of any fishy smell," he said.
The father of two also said that the method of producing a pufferfish-based product was complicated as it would take a long time to complete, apart from demanding his full attention.
"It is difficult to produce, but I hope that it can be competitive enough and become a tourist attraction to Mersing, considering that not many places have this product," he said.
Kassim said decorative items were produced based on customers' demands including table lamps, lanterns and souvenirs of various sizes and they were priced at RM25 and could fetch up to RM300.
However, Kassim said currently the sales were a bit slow as he was busy with the construction of a workshop and gallery around his house to showcase his work, using his own capital.
"I take this initiative to accommodate the presence of a large number of visitors as the existing space is quite limited, thus providing a more conducive place for them to witness how the craft being produced closely.
"Besides, I have also received requests from teachers and lecturers from institutions of higher learning asking me to share my knowledge and experiences with their students," he said, adding that he also received visit from Indonesian students.
Recently, Kassim also received a RM20,000 grant from the Perbadanan Usahawan Johor and expressed his hope that more relevant parties would be able to provide him with financial assistance and equipment including machinery to further expand the business.
-- BERNAMA