Mother's positive outlook gives strength to Kosmo! journalist

Last Update: 10/10/2019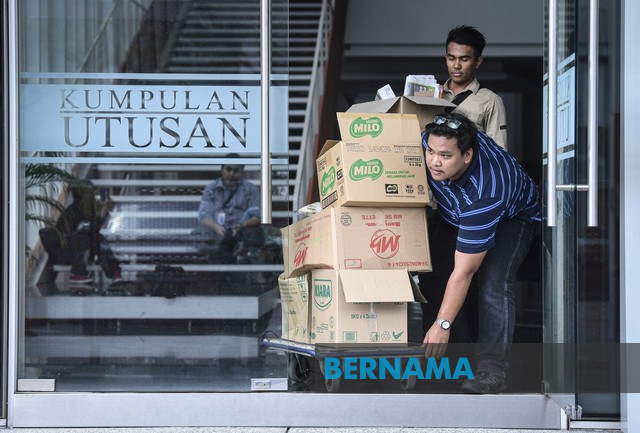 KUANTAN, Oct 10 -- His mother's positive outlook has given Kosmo! journalist Mohd Ghazali Alias much needed strength ??upon receiving the news that Utusan Melayu (Malaysia) Berhad, the company which published the daily and Utusan Malaysia, had ceased its operations yesterday.
Mohd Ghazali, 29, said although he had heard the news since the day before, he was still hoping that it was just a rumour as he was getting ready for work yesterday.
Having served Kosmo! for the past five years, including as the bureau chief in Pahang, Mohd Ghazali said he had to muster enough courage before contacting his mother, Rokiah Zakaria, 64, in the afternoon to inform her the sad news.
"My mother just listened and only after I calmed down, she reminded me that the 'rezeki' (sustenance) is God's work. It is okay and Insya Allah (God willing), there will be something for me as long as I am diligent and continue to work hard.
"She is very positive and even in the past, despite facing salary issues, she was still optimistic about it and advised me to be patient," he said when contacted by Bernama here today.
Mohd Ghazali also admitted that he was still hoping to be able to continue to work for Kosmo! if it was true that they would resume publishing in the future, based on what they have been told.
Furthermore, he just started his first semester pursuing Bachelor of Mass Communication at the Universiti Teknologi Mara (UiTM) in September, and he knew that he needed a stable income to continue his studies.
"I didn't expect to get an offer to further my study and even when I signed up for the course, the financial situation at work had affected me so much that I had to withdraw my savings at the Employees Provident Fund (EPF) to pay the fees.
"If there is no good news within the next two weeks from the company, I may have to look for another job. My mother asked me to return to the family home in the village to clear my mind before making a new plan," he said.
Meanwhile, Utusan Malaysia's journalist Mohamad Shofi Mat Isa, 35, said thus far, he has no plan as the news came as a surprise, and hoped he would be among those selected to continue serving.
Being the sole breadwinner in his family, Mohamad Shofi said the news left him in quandary as he has quite a lot to worry about including house and car loan instalments, as well as raising two young children, aged three years and nine months respectively.
"My savings depleting fast as it has been used to cover our expenses due to several months of unpaid salary and the company has yet to pay the September salary ... hopefully it will come into effect this month.
"While still hoping to return to work, I also realised that I have to start looking for other ways to make a living. Daily shopping is getting more expensive, especially when comes to baby and children's stuff," he said.
-- BERNAMA