Chua, the charity man blind to race, colour or creed

Last Update: 11/10/2019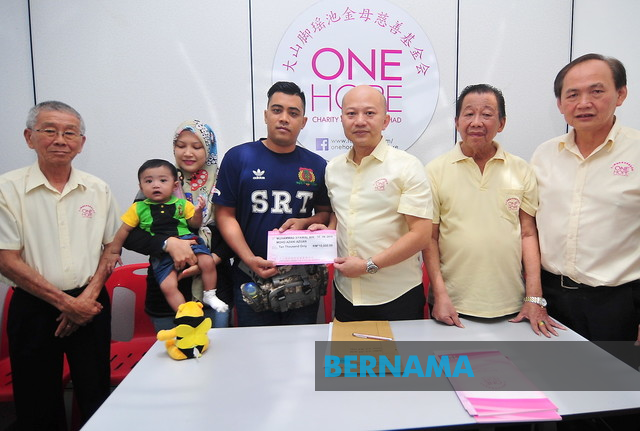 BUKIT MERTAJAM, Oct 10 -- His aim and mission in life is to help the down and out, while also bringing happiness to people regardless of their background and race.
That has been the objective of Chua Sui Hau when he opened the One Hope Charity and Welfare Berhad centre here.
Although his noble pursuits have been criticised with nasty remarks and slurs, that has never stopped Chua from continuing with his aim of helping people of different races and faith who are really in need.
"I am determined to help everyone regardless of whether they are Malay, Chinese or Indian. Whenever I hear of anyone having problems such as suffering from a serious illness and who require a large sum of money, I help out and manage the cost of the treatment," said Chua who is also chairman of the welfare organisation, during an interview with Bernama at his office recently.
The 46-year-old shared that he was once questioned as to why he was helping other races when he could focus on his own (Chinese), especially since the other communities could seek help from their own charity organisations.
His candid response was that they were Malaysians living in a multi-ethnic society as one family.
"I don't look at a person's race, I want to help people … anyone. From the time this charity centre started, I had decided not to choose (favour) a particular race. It's because we Chinese, Malays and Indians are like a family because we are all in Malaysia," he reiterated.
With the encouragement and support of his wife and family, Chua said he came up with the idea of setting up the organisation after coming across the sick not having enough funds for treatment or surgery.
After running the welfare centre for 17 years, Chua is both satisfied and pleased to see that former now living happier and healthier lives with their loved ones.
He added that of those receiving assistance from the organisation, 41 per cent were Malays, 36 per cent Chinese and 23 per cent were Indians.
Chua also has plans to set up a charity hospital within the next five to 10 years.
-- BERNAMA