Sultan Perak attends 2019 Islamic Education Excellent Award Presentation

Last Update: 11/10/2019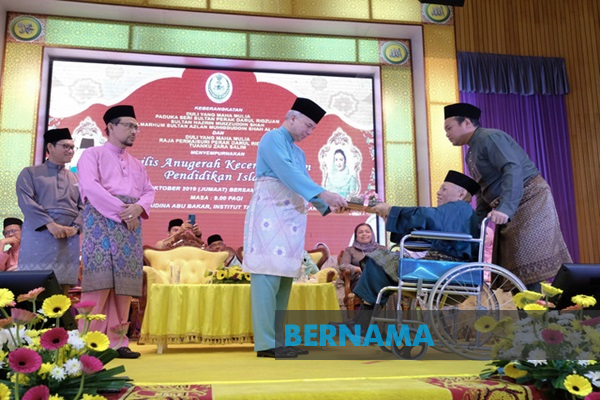 IPOH, Oct 11 -- The Sultan of Perak Sultan Nazrin Shah today graced the 2019 Islamic Education Excellent Award Presentation for the Perak state level at the Perak Islamic Administration Institute (INTIM), here.
Also gracing the event was Raja Permaisuri Perak Tuanku Zara Salim.
Others present included Menteri Besar, Datuk Seri Ahmad Faizal Azumu and wife, Datin Seri Dr Nomee Ashikin Mohamed Radzi, State Executive Councillors, and Director of the Perak Islamic Religious Department (JAIPk) Datuk Mohd Yusop Husin.
At the event, Sultan Nazrin gave away 29 categories of excellent awards to 106 recipients involving various levels of education with 57 recipients comprising pupils of Sekolah Rendah Agama Rakyat and Sekolah Menengah Agama Negeri while 49 others received the Mosque Studies Certificates.
Sultan Nazrin also presented the 2019 Jasamu Dikenang Awards to two educators namely Rogayah Kassim and Megat Aznir Megat Said as well as the 2019 Tokoh Guru Award to Abdul Hamid Mohamad.
-- BERNAMA